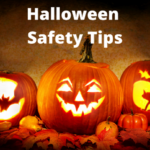 As the spooky season creeps upon us, it's clear that Halloween will look quite different from previous years due to the pandemic. Although it may be difficult to participate in the usual festivities, check out our safety tips so your family has a fun and safe spooky season this year.
Decorations: Since Halloween will be spent mostly at home this year, it's a great opportunity to decorate your home with the kids. However, this means choosing products that prove to be non-hazardous to young children and babies.
Avoid small items that could pose a choking hazard.
Use battery powered flashlights and imitation candle lights to avoid open flames.
Costume safety:
Choose costumes without small choking hazards, or drawstrings which can pose strangulation hazards. Remove the drawstrings from costumes that have hoods and they're good to go.
Form-fitting costumes prevent tripping and fabric catching on fire. Stay away from long trailing fabric.
Use a COVID-19 health mask even if a costume already has a mask.
Place reflective material on the front and back of costumes in order to see and be seen by drivers.
If you use makeup or face paint, choose non-toxic products. When using face paint, make sure your child is not allergic by testing out a small patch beforehand – preferably a few days prior.
Pumpkin carving seems like a family-friendly activity, but according to the CPSC, approximately 44% of Halloween-related injuries occur from pumpkin carving. Some stores sell pumpkin carving kits marketed to children, but they can include sharp tools that may not be suitable for young children. Let young children help out in other ways like drawing the design or scooping out the pumpkin seeds.
Check if your costumes or decorations have been recalled at cpsc.gov/recalls or if other consumers have had incidents with them at SaferProducts.gov. We hope you and your family have a fun, spooky, and safe Halloween! Comment below and let us know how you're planning to have a safe Halloween this year.