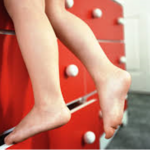 Furniture and TV tip-overs can happen in an instant even when parents are nearby, as seen in the U.S. Consumer Product Safety Commission (CPSC)'s PSA 'Even When You're Watching'.
The CPSC recently released a report on tip-overs that contains data on injuries and fatalities associated with television, furniture, and appliance tip-overs.
A child is sent to the emergency room due to a furniture tip-over every 60 minutes. And based on the data provided from 2000 to 2016 (CPSC's reporting for 2017-2019 is still ongoing), on average, 1 to 2 children die every month from a furniture tip-over.
Children accounted for 82% of reported fatalities (ages ranged from 1 month to 14 years), and 91% of all fatalities occurred in residential settings. Most tip-over injuries (78%) involved furniture, such as dressers and chests. Sixty-one percent of reported fatalities involved furniture. Chests, bureaus, and dressers accounted for the vast majority of furniture-related child tip-over deaths.
These stats underscore the need for policymakers to take action to prevent tip-overs. Currently, the only protection consumers have is to anchor furniture.
The Stop Tip-overs of Unstable, Risky Dressers on Youth Act, or STURDY Act, which passed without opposition in the U.S. House in 2019 got stalled in the Senate but KID is working with Parents Against Tip-overs (PAT) and other consumer advocates to pass this important legislation this year. The Act would require the CPSC to create a strong mandatory rule for dressers and similar products to protect children from all too frequent tip-over incidents. For instance, the Act would require addressing dynamic force applied by children interacting with the dresser, multiple drawers opened and filled with clothing, as well as the effect of being placed on carpet. The current voluntary standard does not address any of these known factors, and industry has been slow to strengthen it.
Read more about the STURDY Act and the children who died from furniture tip-overs.