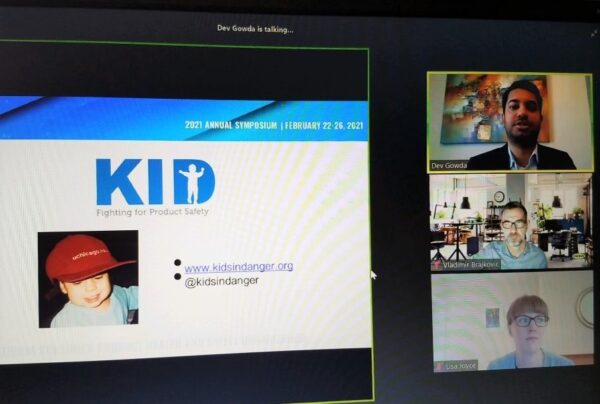 This week, I represented KID alongside Executive Director Nancy Cowles at the International Consumer Product Health & Safety Organization (ICPHSO)'s annual symposium. ICPHSO is a multi-stakeholder organization that works to further product safety. Typically this event would be in-person, but it was held virtually this year.
I presented on a panel focused on the impact of social media on product misuse, alongside Lisa Joyce at Mason Hayes & Curran and Vladimir Brajkovic of IKEA. I talked about the images KID sees routinely from influencers and companies on social media of unsafe environments such as soft bedding and crib bumper pads in cribs, and what consumers, influencers, and brands can do to discourage postings of unsafe images. Marketing and safety teams within a company should work together closely so that unsafe images don't get posted on their social media to promote products, and agreements between influencers and companies should include measures that take safety into account in posted images.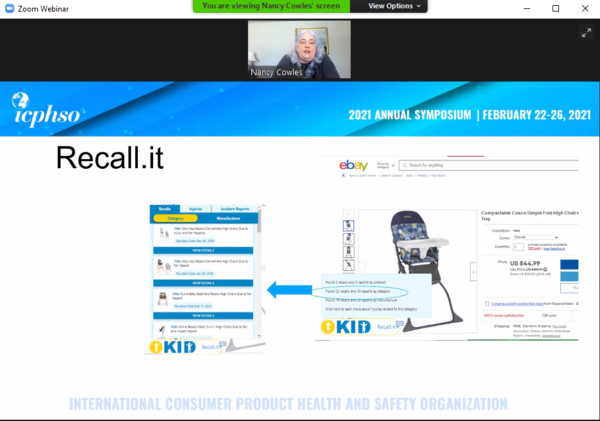 Nancy participated in a panel called "Safety Information in a Virtual World" moderated by Rachel Weintraub of Consumer Federation of America, and including Mark Fellin of Amazon, and Sharon Levi at the Ministry of Health, Israel / School of Public Health University of Haifa. Sharon provided brand new research on how consumers view safety while shopping online. Nancy spoke about new ways to provide consumers with the safety information, and previewed Recall.It, a browser extension that KID is developing, to provide shoppers on Amazon, Craigslist and eBay with safety information such as recalls and injury statistics.
Despite the virtual format, the symposium continued to provide updates on product safety, best practices and other presentations to help improve product safety globally. The CPSC Acting Chair spoke on Wednesday, which was CPSC Day, and spoke of requesting a much larger budget to help CPSC fulfill its mission to keep consumers safe. In his words, "CPSC is, by far, the smallest of the federal health and safety regulatory agencies. In other words, we're the poster child for "start poor, stay poor.""
You can read the full remarks here – there is something for everyone.
It was a great experience to not only represent KID for the first time at an ICPHSO panel, but also to spend the week hearing from consumer product safety experts and leaders from around the world. There are very few places like ICPHSO where so many of the stakeholders in product safety come together and it is important that the consumer voice is heard in that arena.
Dev Gowda, KID Assistant Director