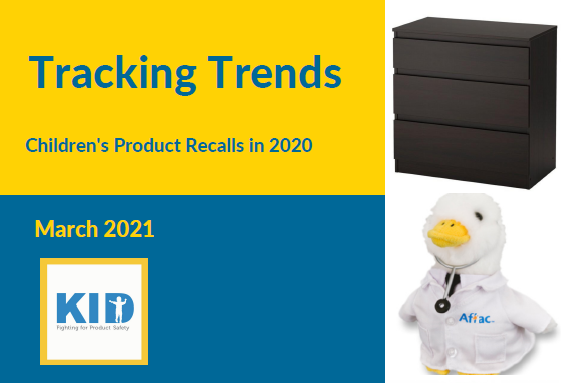 Today, KID released Tracking Trends: Children's Product Recalls in 2020 analyzing the children's products recalled by the U.S. Consumer Product Safety Commission (CPSC). Read our press release featuring quotes from Congresswoman Jan Schakowsky, Parents Against Tip-overs, Illinois PIRG, and Illinois Action for Children here. Furniture tip-overs have been a serious hazard for years. This year saw a continued increase in recalls of unstable dressers and other furniture. Fourteen of 63 recalled products (22%) were furniture items. Eleven products in the furniture category were recalled due to a tip-over hazard.
KID urges policymakers to pass the STURDY Act, which would create mandatory safety standards for furniture tip-overs. The STURDY Act passed the U.S. House in a bipartisan vote in 2019 but stalled in the Senate.
Recalls for lead saw a spike in 2020. Nine products were recalled due to high levels of lead, compared to only one lead recall in 2019. Nursery products accounted for the highest number of recalls (16), and six of the nursery product recalls were infant inclined sleep products.
The report also found that social media usage by the CPSC and recalling companies to alert consumers about recalled products has remained low. In 2020, the CPSC posted 49% of children's product recalls on Facebook, 49% on Twitter, and only 10% on Instagram. Recalling companies were similarly low – 43% on Facebook, 29% on Twitter, and 21% on Instagram.
KID recommends the following:
Policymakers should strengthen and mandate furniture safety standards to prevent tip-overs, which the CPSC should enact. Current standards are only voluntary and do not adequately reflect real world use and injury scenarios.
The CPSC and recalling companies need to prioritize recall effectiveness. Every recall should be posted on social media in addition to other measures to increase the likelihood recalled products are removed from use.
The CPSC should recall all inclined sleep products still on the market or in homes, and policymakers should ban these inherently unsafe products to prevent more deaths. In addition, the CPSC's proposed rule on Infant Sleep Products should be published.
Congress should provide adequate funding for the CPSC to fulfill its mission.
The CPSC should improve its capabilities to provide recall effectiveness data both through the FOIA process and by making recall effectiveness metrics public.
KID recommends that parents check SaferProducts.gov for recalls and injury reports and sign up for safety updates at KidsInDanger.org. In addition, parents should report problems with children's products to the manufacturer and to CPSC at SaferProducts.gov.
Read the full report here.