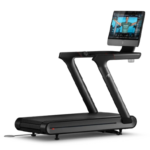 After the death of one child and several injuries, the Consumer Product Safety Commission (CPSC) has issued a warning about the Peloton Tread+ treadmill (formerly called the Tread).
The CPSC explains that it "found that the public health and safety requires this notice to warn the public quickly of the hazard" and compelled Peloton by subpoena to release the information of the victims involved. In response, Peloton claims there is insufficient reason to recall the product despite the ongoing investigation and instead highlighted the importance of carefully following its safety instructions.
An official familiar with the CPSC's concerns explained to the Washington Post that the agency was alarmed by reports of children being pulled under the machines, which the official argues "doesn't happen with other treadmills; It is a different hazard pattern than is typically seen."
A video published by the CPSC shows the exact type of incident with the Peloton Tread+ that they are so alarmed by. [Warning, video content may be disturbing to some viewers]. In a recent warning issued on their website, the CPSC notes that it is aware of 39 incidents including 1 death involved with the Peloton Tread+. They urge consumers with children to stop using the product as soon as possible.
KID supports the CPSC's request to recall this product. "While it is important that clear safety information be provided and followed, products themselves should be as safe as possible," states KID Executive Director Nancy Cowles, "especially when a target audience are parents with young children.  A moment's inattention shouldn't lead to a serious injury or loss of life.  Peloton has shown itself to be a creative and inventive company who can use those skills to make the product safer."
According to the CPSC's latest statement about the Peloton Tread+, the following steps can be taken by consumers:
Stop using the Peloton Tread+ if there are small children or pets at home. Incidents suggest that children may be seriously injured while the Tread+ is being used by an adult, not just when a child has unsupervised access to the machine.
If consumers must continue to use the product, CPSC urges consumers to use the product only in a locked room, to prevent access to children and pets while the treadmill is in use. Keep all objects, including exercise balls and other equipment, away from the treadmill.
When not in use, unplug the Tread+ and store the safety key away from the device and out of reach of children.
Report any Peloton Tread+ incidents to CPSC at www.SaferProducts.gov or to CPSC's Hotline at 800-638-2772.
Stay up-to-date with all KID's safety information by following us on Facebook and Twitter, and signing up for our email alerts.