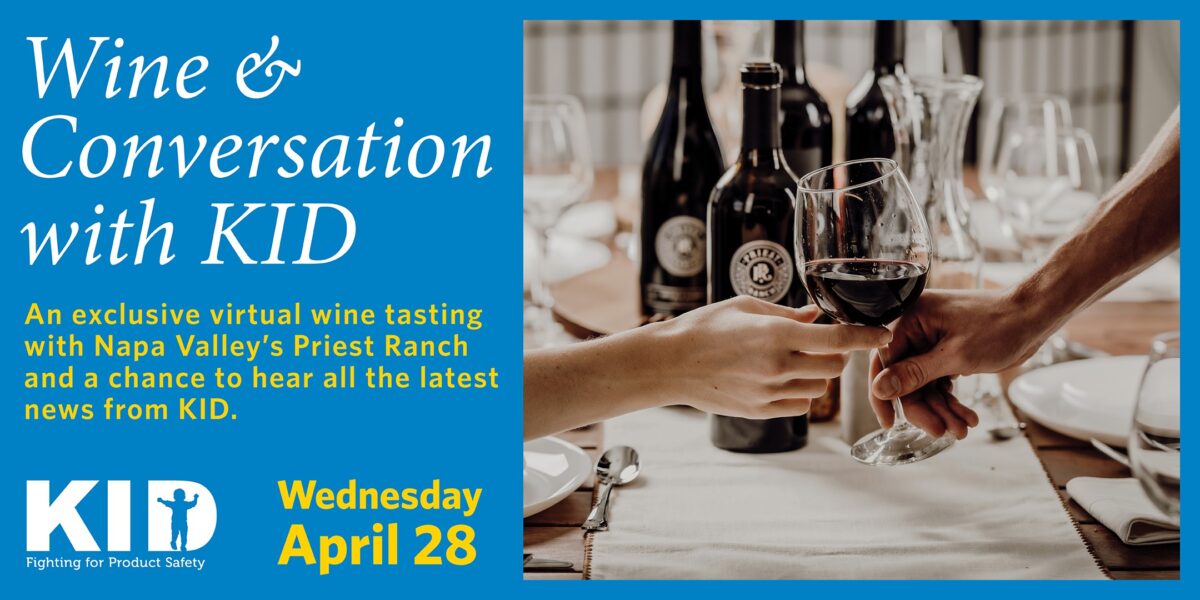 Join us on Wednesday, April 28, 2021 from 6:30-8pm Central for an exclusive virtual wine tasting with Napa Valley's Priest Ranch and a chance to hear all the latest news from KID. Purchase tickets here. Deadline to purchase wine tasting tickets is April 18, 2021 to account for shipping time.
Guests will enjoy the 2018 Peacemaker and 2018 Snake Oil—two stellar Napa reds from an extraordinary vintage—during a guided experience via Zoom with Craig Becker, co-founder and director of winemaking at Somerston Estate and Priest Ranch in St. Helena.
Proceeds will support KID's life-saving work to protect children by fighting for product safety. Guests will enjoy welcome remarks from KID Board President Shawn Kasserman and, after the tasting, get updated from KID Executive Director Nancy Cowles on the new current legislative environment and pandemic safety at home.
The two wines retail for $200; total cost to you for this special benefit evening is just $150. Perfect for one or two couples to have an engaging evening together, while supporting KID. We'll also have a raffle drawing (winner need not be present to win).
Ticket information:
• General admission ($150): Receive 2 bottles shipped to your home
• General plus ($250): Receive 2 bottles and snack box shipped to your home
• Sponsor ($400): Receive 2 sets of both bottles and 2 snack boxes shipped to your home, or have the second set shipped to a friend.
• 1 Raffle Ticket: $10
• 6 Raffle Tickets: $50
Purchase event and raffle tickets here. Reserve your spot today because the deadline to purchase wine tasting tickets is April 18, 2021. Zoom call-in info will be provided prior to the event. Contact us if you have any questions.