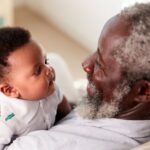 Sunday, September 12th is National Grandparents' Day. While it's a great opportunity to thank grandparents for all they do, it's also a great opportunity for grandparents to get up-to-speed on updated child safety guidelines so they can experience a fun and safe time with their grandchildren when they come to visit.
Choking & ingestion: Use the tube test: Babies learn by putting objects into their mouths. To avoid choking and ingestion hazards, use an empty toilet paper roll. If it fits in the tube, it is too small for a baby or toddler under 3. Put it up high and out of reach while the little ones are around. This includes medicine, button batteries, round balls, and much more.
ABCs of safe sleep: Suffocation, often in a sleep environment, is the leading cause of injury-related death for children under the age of 1. Remember the ABCs of safe sleep: Alone on their Back in a Crib, play yard or bassinet that meets current safety standards.
Alone: Although many grandparents want to spend as much time with their grandchildren as possible, when it's time to sleep, infants need to sleep alone. Use a crib, bassinet, or play yard without stuffed animals, crib bumpers, or loose bedding.
On Their Back: We now know it's unsafe for babies to sleep on their stomachs. Whether napping or sleeping at night, lay babies on their backs for every sleep.
In a Crib: Don't pull out an old crib or bassinet for a new baby. Check on SaferProducts.gov to see if baby products have been recalled or consumers have reported safety issues.
Secure furniture to prevent tip-overs: A child is sent to the emergency room because of a tip-over incident every 46 minutes, and on average, 1 to 2 children die every month. To prevent furniture tip-overs:
Purchase furniture that has a wider base, heavier back panel, and/or interlocking drawers.
Anchor all furniture such as dressers, as well as TVs and TV stands. Learn how to anchor your furniture at Anchorit.gov.
Subscribe to our monthly newsletter to get that month's recall digest here.
Follow us on Facebook and share with us your tips for safety.  Enjoy Grandparents Day with your family and stay safe.