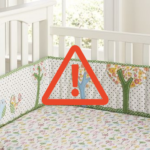 This summer, the U.S House passed both the STURDY Act and the Safe Sleep for Babies Act in an overwhelmingly bipartisan vote. Both bills will protect children from dangerous products, such as padded crib bumper pads and unstable dressers.
Contact your U.S. Senators today and ask them to cosponsor the STURDY Act and Safe Cribs Act. We can't stall any longer to pass these life-saving bills. Both bills passed in the House in the last session as well but stalled in the Senate. We can't let that happen again this session. The Senate is in recess right now but their staff is still taking advocacy calls and now is a great time to call your local in-district office to try to talk to the Senators themselves.
The STURDY Act (S.441) would require the CPSC to create a strong mandatory standard that would require testing for all clothing storage units. Watch this video from Parents Against Tip-overs explaining why the STURDY Act is necessary to prevent similar tragedies.
The Safe Cribs Act (S.1259) would prevent sleep-related deaths by banning the sale and distribution of padded crib bumpers, which have led to dozens of infant deaths.
Support these life-saving bills today by contacting your U.S. Senators and asking them to cosponsor the STURDY Act (S.441) and Safe Cribs Act (S.1259). Find both of your U.S. Senators' names and contact information here.
Comment below or on our Facebook page to let us know how your call went.