Guest blog by: Alice Burgess, Rush Medical College, Chicago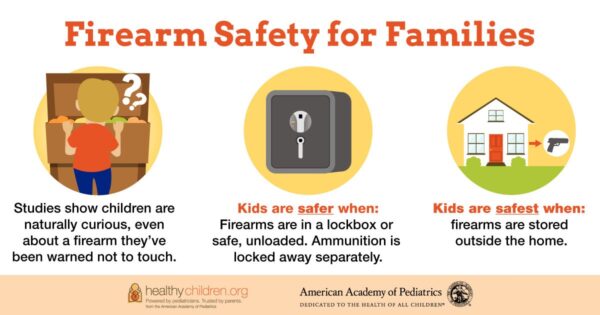 Unintended firearm injuries contribute to the premature death and disability of children across the U.S. Even if there is not a firearm in your home, there may be one in a home that your child visits or plays at. Read on to learn more about the scope of this issue, how to mitigate risk, and what safe storage options are available for families.
How many children get injured or killed from firearms?
In 2019, death by firearm became the leading cause of injury-related deaths for children 19 years old and under. Annually, over 1,300 children die and 5,790 are treated for gunshot wounds in the U.S. Young children, teenagers with mental health issues, and minorities are disproportionately affected. In 2020 alone, there were at least 369 unintended shootings by children in the United States. The number of gun purchases and unintended shootings has increased over the COVID-19 pandemic. 
How common is gun ownership?
Roughly 1/3 of U.S. homes with children have guns. An estimated 4.6 million kids live with unlocked and loaded guns.
What is the safest way to store a firearm?
There are 3 pillars when it comes to storing firearms: (1) Store guns unloaded, (2) Securely lock guns, and (3) Lock the ammunition in a separate container. 
Kids should not be able to access keys or combinations to open lock boxes or gun safes.  Keep the safety catch in place until you are ready to fire, and always unload the gun before setting it down on a surface.
What are parents' options for safe storage?
There are a variety of storage options for firearms, depending on the optimal size and price. Storage options are readily available at retail stores, sporting goods stores, and online. These include trigger and cable locks, lock boxes, and gun cases, cabinets, and safes.  Check cpsc.gov/recalls to make sure your gun storage product hasn't been recalled. The Harbor Freight Handgun Safe, the Alpha Guardian Stack-On Gun Safe, the ImprintTM Safe Box, the Stack-On Strong Box Safe, the GunBoxTM Storage Box, and the Project ChildSafe gun lock have all been recalled due to injury hazards. 
How do I keep my child safe in neighbors', relatives', and friends' homes?
Always ask if there is an unlocked gun in homes where your child spends time. If there is an unlocked gun, share the importance of keeping all firearms unloaded, locked, and with ammunition stored separately. Educate your children that while guns may look like toys, they are weapons that can cause injuries or death, and they should alert an adult, call home for a ride, or leave the premises if they come across a gun.
What is the single best way to prevent firearm injuries?
Guns are safest when stored outside the home, at a safe alternate location. If you have a firearm you would like to store outside the home, contact your local law enforcement team to access free or low cost safe storage. The American Academy of Pediatrics states that the safest home for a child is one without guns altogether.
Sources
Katherine Fowler, MD. "Childhood Firearm Injuries in the United States." Journal of Pediatrics, 2017.
Judy Schaechter, MD. "Guns In The Home." Healthy Children from the AAP." Updated June 2021. 
"Secure Gun Storage." Everytown For Gun Safety.  2021.