By: Dev Gowda, Assistant Director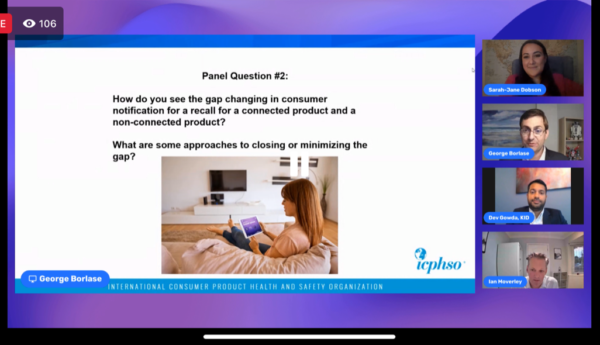 Last week, I spoke at a plenary session at International Consumer Product Health and Safety Organization (ICPHSO)'s International Symposium with Sarah-Jane Dobson of Kennedys Law and Ian Moverly of Whirlpool, moderated by George Borlase of Underwriters Laboratories. The session, titled Recalling Products in the Future, focused on recall effectiveness in a changing world with connected products.
I presented KID's findings from our report Tracking Trends: 2020 Children's Product Recalls about how the U.S. Consumer Product Safety Commission (CPSC) and recalling companies are lagging at publicizing recalls on social media. Smartphone usage has increased during the pandemic and consumers rely more on getting information through their phones. This is why it's important for recalling companies and the CPSC to use social media to publicize recalls and safety issues. If companies aren't reaching consumers where they're at, then they're not going to be aware about recalls, and these dangerous products will continue to be in our homes. For connected products where customers are using a phone app or there's a subscription service, companies can and should contact users directly. Simply posting on a website is no longer enough.
For connected products, recalling companies have more options for how to deal with a product defect or recall. Companies can release an optional software update that could fix the problem, but a certain percent of consumers might hold out on the update, either if they're unaware or ignore the message from the company. Companies can also render a product useless (called "bricking" a product) or mandate a software update which would be the best way to ensure that consumers aren't using a dangerous product. However, even with an automatic software update, the company should still communicate the problem to the consumer because consumers have a right to know. In addition, depending on the defect, there could be some users who just aren't comfortable using the product, even after an update, so a refund or replacement should always be an option.
The Symposium was a two-day virtual event and included presenters from a variety of fields from many different nations: attorneys, government officials, consumer advocates, and corporate representatives. The new Chairman of the CPSC, Alexander Hoehn-Saric provided introductory remarks, and keynote addresses were given by Pinuccia Contino, Head of Unit, Product Safety and Rapid Alert System of the European Commission, and Dr. Nelleke van der Puil, Vice President Materials of LEGO. Speaking at the plenary session was a great opportunity to be a voice for consumer advocates at ICPHSO, a role KID has played for years. Thank you to ICPHSO for the opportunity, and I look forward to representing KID at future conferences.