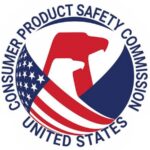 KID applauds the U.S. Senate for confirming President Biden's nominee for Commissioner of the U.S. Consumer Product Safety Commission (CPSC), Richard Trumka Jr., by unanimous consent.
KID looks forward to working with Mr. Trumka and his team to protect children from hazards such as unstable dressers, unsafe infant sleep products, ingestion hazards like magnets and button batteries, and more.
Mr. Trumka stated in his testimony before the U.S. Senate Commerce Committee that he has focused much of his attention on children's safety issues working with members of Congress. While he was with the U.S. House Oversight Subcommittee on Economic and Consumer Policy, the subcommittee published a staff report on children's car booster seats and the risk that they pose to children who are placed in them prematurely. The subcommittee also issued a staff report revealing that many baby foods contained high levels of toxic heavy metals like arsenic, lead, cadmium, and mercury.
Earlier this year, the Senate confirmed President Biden's nomination of Alex Hoehn-Saric as Chairman of the CPSC and we urge the Senate to immediately confirm Mary Boyle as Commissioner of the CPSC so the agency can operate fully with five commissioners.