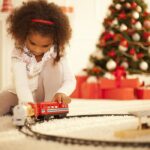 The holidays are quickly approaching. While shopping for your loved ones this season, think of these "TRACK" safety tips:
T- Toilet Paper Roll Test: If a toy or part of a toy is small enough to fit through a toilet paper roll, it is too small for a child under 3 years since it can pose a choking or ingestion hazard.
R- Recalls: Recalled toys are still sold online through sites like Facebook Marketplace, Craigslist, and eBay. A recent USA Today story found not only toys, but also nursery products such as swings, seats, and sleep products – all that have been shown to be unsafe, and some that have killed children. Check for recalls and incident reports on the CPSC website and SaferProducts.gov before gifting them.
A- Age Labels: Only buy toys that align with the child's age range. Age labels are there for safety issues that may relate to development or skills.
C- Counterfeits Online: There can be hidden hazards shopping online through a marketplace or buying directly from an unknown brand or site. Traditional retail stores are required to only sell toys from manufacturers that have a Children's Product Certificate (CPC). The CPC affirms that the toy meets all applicable federal safety standards for children. Toys that are sold online to consumers on a marketplace or directly may not follow these same rules and ordering from these retailers can increase the risk of receiving counterfeit products that are unsafe. It is recommended that you scrutinize the seller, reviews, and the price. Toys that are significantly less expensive could be counterfeits.
K- Keep Away: While toys are required to have battery compartments that keep children away from the batteries, other children's products you may buy for the holidays do not. Check before you buy any products with batteries or small magnets for young children because they can pose ingestion hazards
For more tips, check out U.S. PIRG's Trouble in Toyland report, and the Illinois Attorney General's Safe Shopping Guide.