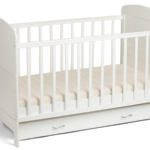 The U.S. Consumer Product Safety Commission (CPSC) released its annual Nursery Products Report.  The report provides data on injuries and deaths associated with nursery products among children younger than five years old with new data from 2020.
Last year, there was a significant decrease in emergency-department treated injuries associated with nursery products than the previous year. According to the report, this decrease is likely due to fewer ER visits for injuries as a result of the COVID-19 pandemic, rather than an actual drop in injuries. For the first time, the CPSC also included racial breakdowns in the incident reporting allowing for a more complete analysis. The distribution of estimated injuries by race did not change over the past three years, but it will be interesting if the agency can draw conclusions in the future by incorporating demographic information.
Other key data from the report:
Eighty-two percent of reported fatalities were due to cribs/mattresses, playpens/play yards, bassinets/cradles, infant carriers and inclined infant sleep products: indicating that sleep is still risky for many babies and product safety and safe sleep messaging should be strengthened. 

The products responsible for 67% of the total estimated injuries in 2020 include highchairs, cribs/mattresses, infant carriers, and strollers/carriages. Falls were the leading cause of all nursery product-related injuries reported through the NEISS for 2020.

CPSC has received 385 reports of deaths associated with nursery products over the three-year period from 2016 to 2018 — an average of 128 deaths per year. This includes any death associated with a nursery product and does not constitute the cause of the death.  
View the full report here. For more safety information, follow us on Facebook, Twitter, and Instagram, and sign up for our monthly email alerts.