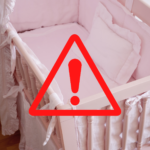 This week, the U.S. Senate unanimously passed the bipartisan Safe Cribs Act (S.1259) by voice vote. Sponsored by Senators Tammy Duckworth (IL), Rob Portman (OH), Richard Blumenthal (CT), and Sherrod Brown (OH), this bill would prohibit the manufacture or sale of crib bumper pads.
Parents trust that products made for their children have been tested and proven safe, but this is not the case for crib bumper pads. Padded crib bumpers don't make cribs safer, but increase the likelihood of suffocation or entrapment, and have led to dozens of infant deaths, such as Preston and Aiden.
Crib bumper pads serve no purpose beyond crib decoration, and the hazards they pose are too dangerous to continue to allow their sale.
Now that this bill passed in the Senate, we urge the U.S. House to quickly take up and pass the Safe Cribs Act to save children's lives.
Read KID and Consumer Federation of America's full statement here.