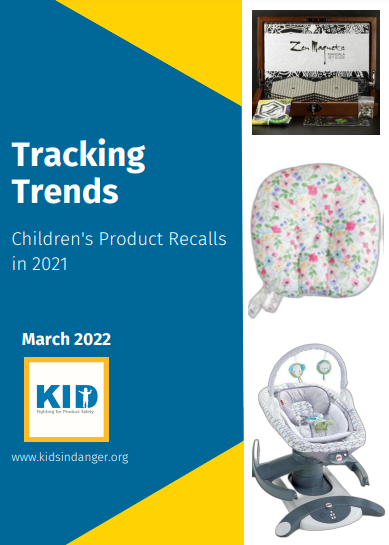 KID released our annual report, Tracking Trends: Children's Product Recalls in 2021, analyzing the children's products recalled by the U.S. Consumer Product Safety Commission (CPSC). Read our press release here with statements from KID Executive Director Nancy Cowles, Congresswoman Jan Schakowsky, Illinois Attorney General Kwame Raoul, Illinois PIRG, and Illinois Action for Children.
The report found an alarmingly high number of deaths prior to recall (14) compared to zero deaths in 2020 prior to recall. This was the second highest number of reported deaths in the past ten years. In 2021, 12 of the 14 total deaths prior to recall were associated with two nursery products, Boppy Loungers (eight deaths) and Fisher-Price 4-in-1 Rock 'n Glide Soothers (four deaths). Both products were recalled due to suffocation hazard.
Small, high-powered magnet sets also continue to be a hazard for children despite being marketed for adults. Zen Magnets and Neoballs Magnets was the product with the most units recalled (10 million units) after two children suffered injuries and one child died after ingestion. Ingestion of high-powered magnets can lead to severe intestinal damage.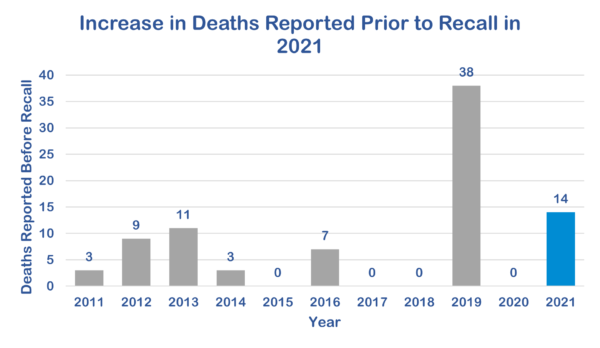 Additional findings of the report include:
Children's product recalls continue a downward trend since 2010. The number of recalls this year (62) is not significantly lower than last year (63) but is lower than most years KID has collected data. The only other years that have had lower number of recalls were 2018 (53) and 2019 (58).
In addition to deaths, injuries and incidents reported prior to the recall has also increased tremendously since last year. In 2021, there were 14 deaths, 136 injures, and 6,058 incidents prior recall, compared to 2020 in which there were no deaths, nine injuries, and 704 incidents.
Social media usage by the CPSC and recalling companies to alert consumers about recalled products has remained low. In 2021, the CPSC posted 50% of children's product recalls on Facebook, 40% on Twitter, and only 5% on Instagram. Recalling companies posted 44% of recalls on Facebook, 32% on Twitter, and 22% on Instagram.
The CPSC's monthly progress reports on how companies are undertaking recalls continue to be lackluster. KID filed 63 Freedom of Information Act (FOIA) requests for recalls in 2020 and received very little data to analyze. Very few reports were fully completed (6) and available to the public and even this data was incomplete and unreliable.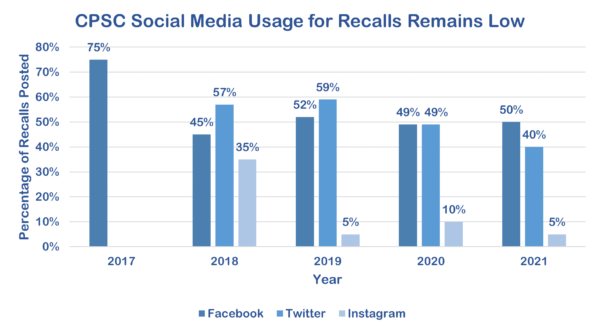 KID recommends the following:
Policymakers should ban small high-powered magnets to protect children from life-threatening injuries and death.

Recalling companies and the CPSC need to prioritize recall effectiveness, which currently appears to be an afterthought. One easy step is by posting all recalls on social media. While the CPSC and companies may post recalls on Instagram stories, they should also alert consumers as Instagram posts so they will be available even after 24 hours.
Congress should pass the

Sunshine in Product Safety Act which

would repeal the current gag order placed on the CPSC which prevents the agency from disclosing life-saving product safety information to the public.
The CPSC must improve its capabilities to provide recall effectiveness data both through the FOIA process and by making recall effectiveness metrics public. There is a lack of transparency in the recall process to consumers and is difficult to measure how effectively the CPSC and companies are undertaking recalls.
Sign up for KID's monthly newsletter which includes a list of children's product recalls at KidsInDanger.org.
Report problems with children's products to the manufacturer and to the CPSC at SaferProducts.gov, and check for recalls and safety incident reports at SaferProducts.gov.
Read the full report here.