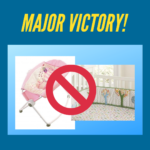 This week, the U.S. Senate unanimously passed the Safe Sleep for Babies Act (H.R.3182). This important bill will prohibit the manufacture or sale of padded crib bumper pads and infant inclined sleep products. The bill passed in the U.S. House last year and now awaits President Biden's signature.
Crib bumper pads increase the likelihood of suffocation or entrapment. The U.S. Consumer Product Safety Commission (CPSC) knows of at least 113 fatalities involving crib bumpers from January 1, 1990, through March 31, 2019. Over 100 children have died due to inclined sleep products such as the recalled Fisher-Price Rock 'n Play and Kids II Rocking Sleeper.
In celebrating the passage of the Safe Sleep for Babies Act, we remember babies like Preston, who suffocated at just eight weeks old when he rolled off of a sleep positioner and against the bumper of his crib in 2012, and Alex who died in a Fisher-Price Rock 'n Play in 2011.
"Laura and I are thankful that our elected officials have finally taken action to protect future generations from the corporations who make these dangerous and unnecessary products," said Kyle Maxwell, Preston's father. "Nothing, not even an act of Congress, can repair the damages these products have caused to ours and countless other families but knowing that the products that took our son from us will no longer be available for purchase gives us closure."
KID thanks the bills' sponsors: Representative Cárdenas, Representative Schakowsky, Senator Blumenthal, Senator Duckworth, and Senator Portman, and urges President Biden to sign this bill into law as soon as possible. Ask President Biden to sign the Safe Sleep for Babies Act into law as soon as possible here.
We hope this ban will encourage anyone currently using these products to remove them from cribs and nurseries to keep children safe. Check out our safe sleep information here.
Note: President Biden signed the bill into law on May 16, 2022.