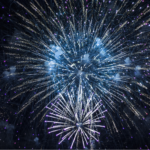 With 4th of July around the corner, many of us are looking forward to watching holiday firework displays with family and friends. However, these awe-inspiring spectacles pose certain dangers. The Consumer Product Safety Commission's (CPSC) new report on firework-related injuries and deaths found a significant rise in injuries over the last 15 years. An estimated 8,500 fireworks-related injuries were treated in emergency departments during a one-month special study period between June 18, 2021, and July 18, 2021. Children younger than 15 years of age accounted for 29 percent of these estimated injuries and the rate of injuries among them grew from 3.3 injuries the previous year to 4.2 injuries per 100,000 people.
To prevent injuries this year, follow these tips and #CelebrateSafely:
Consider watching public fireworks displays in your community. Most injuries are with home fireworks lighting.
Young children should not play with or ignite fireworks, including sparklers. Sparklers burn at temperatures of about 2,000 degrees Fahrenheit— too hot for children.
Keep a bucket of water or a garden hose handy, in case of fire or other mishap.
Light fireworks one at a time, then move quickly away from the fireworks device.
Don't relight or handle malfunctioning fireworks. Soak them with water and throw them away.
Stay updated on more safety information by following KID on Facebook, Instagram, and Twitter. If you have any questions or comments about firework safety, please comment below or contact us through social media.