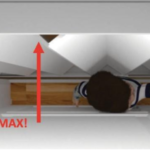 On September 14th, ThyssenKrupp Access (TKA) agreed to a deal with the CPSC to recall 16,800 residential elevators in the U.S., conduct safety inspections, and provide repairs one year after the CPSC filed a lawsuit to force the company after it refused a voluntary recall. There have been three incidents involving these elevators, including a two-year-old child who died in 2017 and a 2010 incident that left a three-year-old child permanently disabled.
These unsafe elevators were installed in residential properties such as homes, townhouses, and vacation properties. A 2017 safety standard review concluded that there should be no more than four inches between the elevator carriage door and the door to the elevator shaft for residential elevators. If the gap is any larger, there is a risk of child entrapment between the two doors. Many newer elevators account for this standard and are designed with the four-inch rule in mind, but some older models still have a large gap.
Four other elevator companies have voluntarily agreed to similar safety recalls in the past year (Otis and CemcoLift Residence Elevators, Inclinator Residential Elevators, Bella Residential Elevators, and Savaria and Garaventa Residential Elevators), but TKA held out until now.
Homeowners with these older models should reach out to the companies immediately for an inspection and installation of the space guards. The full remedy of a free inspection and free installation of a space guard is available only until December 31, 2026, as outlined in Section 12 of the settlement. After that date, TKA will provide space guards to qualifying elevator owners but will not pay for installation or measurement so act quickly if you have a residential elevator covered by this recall. Homeowners should also make sure that children do not have access to these elevators until the inspection and installation are complete.
Read more about the settlement of the lawsuit and the recall at CPSC's website or Washington Post. If you have any questions, leave a comment below, or contact us through Facebook, Twitter, or Instagram.