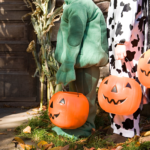 The spooky season can be a magical time for children, and you may be planning some exciting activities this Halloween.
However, the Consumer Product Safety Commission estimates that an average of 3,600 Halloween-related injuries are treated in hospital emergency departments each year.
Follow these tips to keep children safe this Halloween:
Use flashlights, glow sticks, and reflective tape or vests when trick-or-treating so that children are more visible when crossing streets.
Use a patch tested, non-toxic face paint rather than costume masks, so that children have better visibility of cyclists and vehicles.
Loose-fitting costumes can lead to falls and can be especially dangerous around an open flame. Wear costumes that fit close to the body.
Select flame retardant materials like polyester or nylon when buying or making costumes.
Drawstrings found in hoodies and jackets pose a strangulation hazard, so remove before wearing if you find them in costumes.
Replace open flames in jack-o-lanterns with battery operated lights or glow sticks
About 48% of injuries related to Halloween result from pumpkin carving. Leave all carving to the adults, and let children have fun scooping out the seeds inside. They can also search for their favorite design and trace it on the pumpkin with a child-safe, non-toxic marker.
Halloween items can be recalled before or after the holiday, so check to see if your costumes or decorations have been recalled at cpsc.gov/Recalls.
If you have any questions leave a comment, or contact us through Facebook, Twitter, or Instagram: @kidsindanger.
We wish you and your loved ones a spooky, sweet, and most importantly, a safe Halloween this year.