Each year, about 3,400 infants in the U.S. die unexpectedly during sleep. We're joining our friends at Prevent Child Injury on social media this week to share some of our #SafeSleep tips and products to avoid.
Reducing Risk: ABCs of Safe Sleep
The ABCs of safe sleep are easy to remember:
Baby sleeps ALONE because bare is best. A crib mattress with a tight fitted sheet is all that you need. If you're worried about your baby getting cold, you can use a wearable blanket. Don't put pillows, blankets, stuffed animals, or bumper pads in the sleep space.
Baby is placed on their BACK for every sleep – at night or daytime naps. Some parents may worry that babies will choke when they're on their backs. But your baby's airway anatomy and their gag reflex will prevent that. The AAP says that even babies with gastroesophageal reflux disease (GERD) should sleep flat on their backs.
Baby sleeps in a CRIB, bassinet, or play yard that meets the federal safety standard. Check for recalled cribs and other sleep products at the CPSC Recalls page.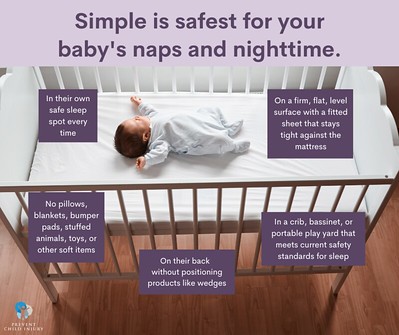 Products to Avoid
Some products are not meant for sleep. Here are a few products to look out for:
Inclined Sleepers and Loungers
The AAP warns parents against the use of infant inclined sleep products, such as the recalled Fisher-Price Rock 'n Play, due to suffocation risk.
The CPSC has also issued warnings about infant loungers, including the Leachco Podsters after two infant deaths, the Boppy Loungers after eight infant deaths, and the DockATot Deluxe Plus Dock after the company did not comply with mandatory requirements.
Crib bumper pads pose a suffocation risk if a baby's face is against the bumper or wedged between the bumper and the crib side or mattress. A new law was passed (Safe Sleep for Babies Act) that bans the sale of padded crib bumpers, new or used.
Weighted Sleep Products
The AAP advises against weighted products for sleep as there is not enough evidence to show that they are safe. Most recently, the CPSC has recalled a weighted sleep blanket after two child deaths were reported due to asphyxiation.
Sleep positioners are marketed as products that encourage sleeping on the back. However, the sleep positioners have been known to suffocate children when they are not able to move their face away from the wedge.
Check out the AAP Guidelines on Safe Sleep and view our Safe Sleep PSA for more information. Share this lifesaving information with your friends and family. If you have any questions regarding safe sleep recommendations or want to share your own safe sleep tips with us, please leave a comment below or contact us through Facebook, Twitter, or Instagram.