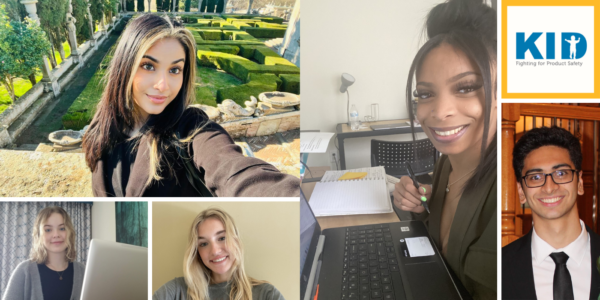 As a small nonprofit, we rely on dedicated interns to help fulfill our mission. KID's interns work on a wide variety of projects and issues, such as research, social media, outreach and education, and advocacy. Meet KID's spring 2023 interns below.
Aniruth Senthilkumar
My name is Aniruth Senthilkumar and I've interned with KID in the past and recently came back. I'm a student at Loyola University Chicago studying Computer Engineering. In the past, I've helped write KID's analysis of the SaferProducts.gov database, contribute to the Design Safety Toolkit, and work on the Recall.it browser extension project. Currently, I'm working on writing a program to efficiently connect with KID's donors and send important messages to those connected to KID's community. I'm proud to be a part of KID since I can contribute to a cause that helps one of our most vulnerable populations.
Shay Khan
My name is Shay Khan, and I am a senior at Loyola University Chicago. I have been working at KID for a few months now, and it has been a wonderful experience. I have helped with organizing and forming recall reports, as well as creating many informative videos for parents on our social media pages. These videos are usually full of quick tips to make a safe environment for the little ones around us. Some examples of these videos include a buy/sell checklist, safe sleep tips, and how to be a child safety advocate. I am thrilled to be here to raise awareness among new and curious parents, as well as all those eager to learn!
Jessica Dragovich
My name is Jessica and I am a social media intern for KID. I'm currently a junior at Loyola University Chicago studying Public Relations and Advertising. I have been working on social media content for KID such as safety tips and recall awareness. I have been making content for all the platforms: TikTok, Instagram, Facebook, and Twitter. I hope to create helpful and engaging social media content to help spread this KID's mission and values. I'm so happy to be a part of such a great organization to help keep families safe!
Tehearah Ferguson
My name is Tehearah Ferguson and I am currently a senior majoring in Sociology and minoring in Criminology at the University of Illinois at Urbana-Champaign. I came across the internship with KID non-profit through my university and found that my past experience and skills could contribute to the organization's mission. During my internship with KID thus far, I have helped work on the annual recall report, created social media posts to educate the public on recently recalled items, and participated in development and fundraising. I found my work here to be meaningful and a great way to use the skills from my past internship while still gaining more experience in skills like fundraising and writing. I look forward to continuing my internship with KID through my semester and am excited for the projects to come!
Jessica Kasperek
My name is Jessica Kasperek and I am a junior, double majoring in Neuroscience and Psychology at Loyola University Chicago. I have been with KID for about a year and a half and have been able to hone my skills and grow my passions for child advocacy alongside my peers and colleagues. During my time with KID, I have been involved in a plethora of projects, including the recall report, literature reviews, foundation research, blog posts, and social media.
If you would like to join the KID Intern team, email sahiti@kidsindanger.org. Follow KID on Facebook, Instagram, Twitter, and TikTok @kidsindanger for continued updates on our work.