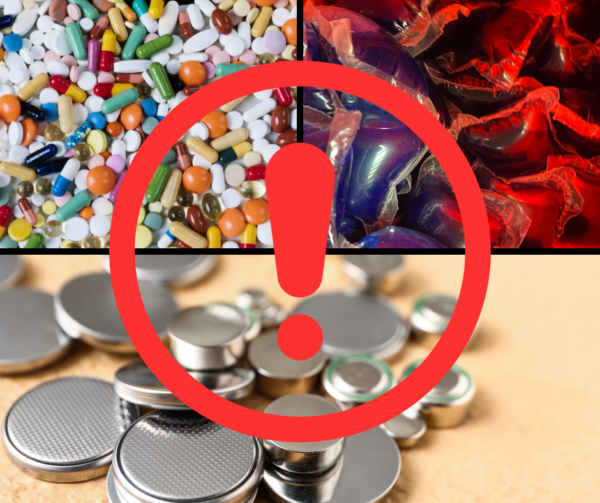 This week marks 61 years of observance of National Poison Prevention Week and while child poisoning deaths have fallen by 73% since 1972, we still have ways to go. A new Consumer Product Safety Commission report showed that of the estimated 62,600 emergency room treated injuries, about 80% of poisonings occurred in the homes. So, here are some tips to prevent poisoning from common household items.
Store laundry packets and cleaning supplies in their original containers and out of a child's sight and reach, and store cleaning supplies in a locked cabinet or box. The AAP recommends buying traditional liquid or powder detergent products instead of packets until all children in your home are at least six years old. Laundry detergent packets are more concentrated and can cause more severe injuries than traditional laundry detergents.
Keep products with accessible batteries including button and coin cell batteries away from children if the battery compartments do not have a screw closure or if the compartment is damaged. Check the toys in your home to make sure battery compartments are secured. If you suspect you child has swallowed a battery is lodged in their nose, ear, or throat, seek treatment in a hospital emergency department immediately. Serious tissue damage can occur in as little as two hours. As a result of the passage of Reese's Law last year, the CPSC has proposed a new mandatory rule that will help prevent button and coin cell battery ingestion.
Liquid nicotine and cannabis products are emerging hazards that can seriously hurt children. Kid friendly flavors, colors, and only recent requirements to use child resistant packaging have contributed to the deaths of several children. The AAP urges parents who have e-cigarettes or cannabis products in their homes to store them in child-resistant packaging, out of the reach of children.
It is also important to remember that toys and other common items sold online can be a danger as well. Our annual report on children's product recalls this year found that 2022 had the highest number of lead recalls in the past decade. Most of these recalls were either toys or clothing items. Before purchasing or using infant and toddler products, make sure to check at the CPSC recall page.
Keep medications in their original child-resistant containers, safely stored in a locked cabinet or box, out of the reach of children. Properly discard unfinished or unused medicines.
If your child is unconscious, not breathing, or having seizure due to contact with or ingested poison, call 911 and/or the Poison Helpline (800-222-1222) immediately.
Until medical professionals arrive, there are a few things you can do to help. The AAP recommends the following for different types of poisons:
For ingested poisoning, remove source and have child spit out remaining substance until met with a medical professional. It is highly discouraged to make your child vomit.
For skin poisoning, remove clothing and rinse skin with warm water for about 15 minutes.
For eye poisoning, flush the eye with room temperature water in the inner corner of the eye for 15 minutes