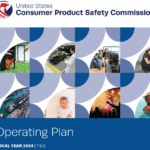 The Consumer Product Safety Commission (CPSC) recently came out with their operating plan for fiscal year 2024 and adopted it, with some amendments at their meeting on November 8, 2023. Here's a glimpse of what you need to know about their priorities and plans related to children's product safety.
Sleeping Safely
Infants die or are injured while sleeping and not just in sleep products. The CPSC plans to continue rulemaking to make bassinets safer and to address hazards with infant and toddler rockers, infant support cushions and nursing pillows, when babies fall asleep on or in them. These new standards will help to prevent sleep-related deaths and injuries. Watch KID's safe sleep PSA to learn how to create a safe sleep environment and learn where your baby shouldn't sleep.
Toy Safety and Water Beads
The agency is also planning to use its rulemaking authority to protect children from unsafe toys including water beads, water floats, and toys that contain button and coin cell batteries. KID recently published a two-part blog series with That Water Bead Lady, Ashley Haugen, whose daughter Kipley was severely injured by water beads. If ingested, inhaled, or inserted in ear canals, water beads absorb bodily fluids and can lead to potentially life-threatening injuries, such as intestinal or bowel obstruction, lung or ear damage. No amount of supervision can keep children safe from water beads. CPSC staff also plans to improve standards for toy devices that include button batteries pursuant to Reese's Law, which went into effect last month.
Custom Window Coverings
Last year, the CPSC passed a strong rule to protect children from strangulation from custom window covering cords, but the rule was recently vacated by the courts. Now, the CPSC plans to develop a rule in accordance with the court's decision. Hazardous corded window coverings create unsafe sleep and play environments for children, and families who rent and have no buying choice are especially at risk for exposure to unsafe window coverings. Avoid any corded window treatments and look for cordless products.
Improving Communications and Data
The CPSC's Office of Communications is in charge of raising public awareness through timely and targeted information about product safety issues. Pursuant to the President's executive order on equity, the CPSC will enhance data collection and analysis of product safety incidents, injuries, and deaths to identify vulnerable populations including factors such as race and socioeconomic factors, and will work with the communications office to enhance safety messaging to vulnerable groups. In KID's 2023 annual recall report, Hidden Hazards, our research found that last year, none of the children's product recall releases on the CPSC's webpage were translated into Spanish. During today's decisional meeting, the Commissioners supported translating recalls and warnings into Spanish to reach more families. The CPSC currently has communications programs for specific hazards such as Pool Safely and Anchor It to prevent furniture tip-overs, and their 2024 plan will also add emerging hazards which may include hazards such as water beads and button batteries.
This is only a small glimpse of the work the CPSC does to protect our children. But as of now, the CPSC doesn't have the necessary dollars appropriated to do this work. KID calls on Congress to adequately fund the CPSC and to not restrict its ability to save children's lives. Follow KID on social media @kidsindanger for up-to-date news about CPSC's efforts to keep children safe.