Family Voices — Bobby Dean's Story
Bobby died when the side rail of his crib detached, trapping and suffocating him.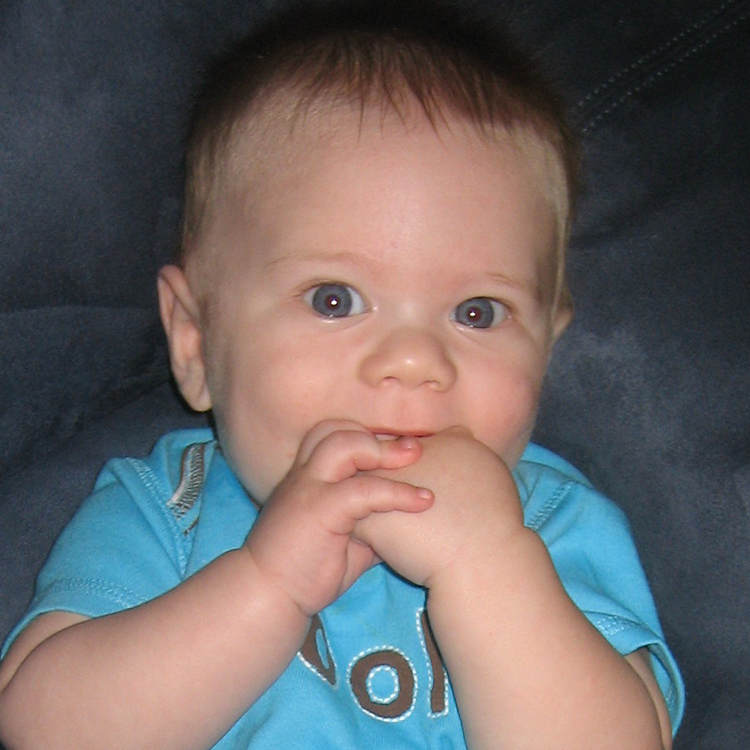 Submitted by his grandmother, Carol
"On Thanksgiving 2007, Robert Dean (Bobby) was sleeping in a Graco stroller. His body slid out between the food tray and seat, but his head was entrapped and he suffocated. The design of the stroller allowed the gap that caused the entrapment. Bobby was seven months old and the light of our lives. He was our first grandchild—always smiling, a very healthy happy baby."
What's Happened Since Bobby's Death?
There were at least four infant deaths in this stroller prior to Bobby's, and another baby died in 2011. Graco redesigned newer strollers and the organization that developed voluntary standards for strollers added requirements to avoid the entrapment hazard.
In 2008, Danny's Law was enacted, requiring mandatory standards for durable children's products. Yet, standards for strollers and carriages did not go into effect until September 2015. These standards specifically address head entrapment hazards, and no strollers have been recalled for this hazard since the effective date. Additionally, the standard addresses parking brakes, latch/lock mechanisms, seat belts, and hinges that can pinch users.
Even with improved safety standards, there's work to be done, especially on the part of manufacturers. Graco did nothing to recall the deadly designed stroller until 2010 — nearly 3 years after Bobby's death. Quicker action and public warnings about the hazard would have saved lives, including Bobby's.
---
How You Can Take Action
To take action and help prevent further incidents, injuries, and deaths,
there are a number of things you can do:
Only purchase strollers that were manufactured after September 10, 2015—the date new mandatory standards went into effect.
Before buying a stroller make check the recall database cpsc.gov to make sure the product hasn't been recalled.
Register all infant and toddler durable products so you can be alerted to recalls.
Register for KID's monthly email alert to stay up-to-date on all children's product recalls and receive safety tips and information.
Check out our action steps for all children's products here.
---
More Information on Strollers
On average, one child dies each year from stroller-related injuries according to data from 2007-2009. Many of these deaths occur when babies are left to sleep with the stroller's back rest in the reclined position. They may slip feet-first through a leg opening until their head is trapped and they are strangled — at least 5 deaths are associated with this hazard. Be aware that infants only a few weeks old can creep or move when asleep.