Family Voices — Camden's Story
Camden died when his dresser tipped over on top of him. He was two years old.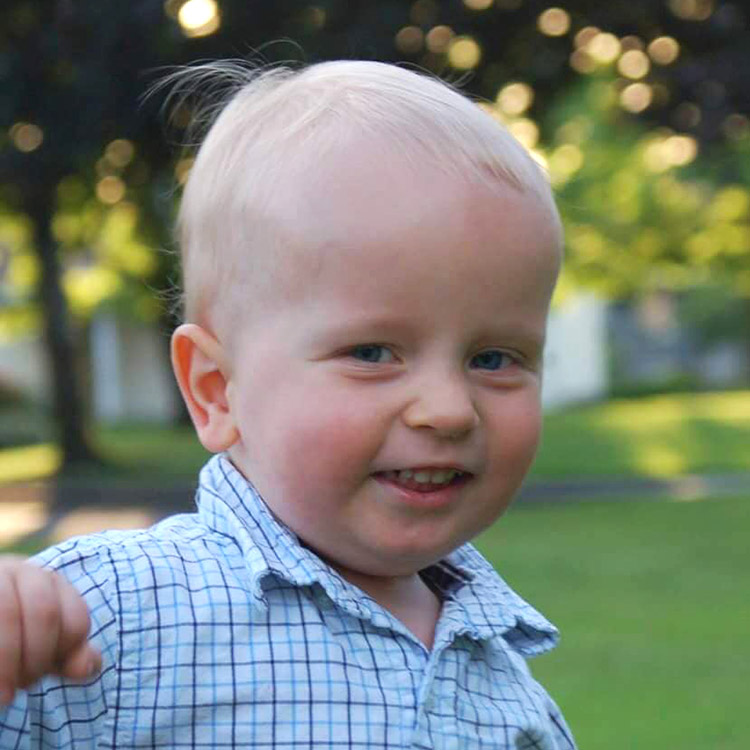 Submitted by his mother, Crystal.
Meet Camden. This is his story.
Camden James was a bright, caring light in the world of our family and everyone who had the chance to meet him. He was a quiet, curious child with a joy for learning and living. Camden liked to watch and help with his baby sister, born just three months before his second birthday.
On the morning of June 11th, 2014, just two days before his second birthday, Camden's dad went to his room to wake him up for breakfast. Camden was usually up by 8:30, but with a new baby up all night, it wasn't surprising that he may have been sleeping in. He had just graduated to a toddler bed and this was his second night sleeping there.
What Camden's father, Charlie, found will live in our nightmares forever. The three drawer, 30 ¾" dresser had pinned Camden and cut off his oxygen. My husband screamed for me and as I ran into Camden's room, I couldn't even believe what I was seeing. My beautiful, blue-eyed baby boy was still. I began CPR while my husband called 911. The paramedics were able to restart his heart and he was eventually transported to Seattle Children's Hospital.
For the next 4 days, as Camden lay in a coma, we prayed and cried and wondered how this had happened to our baby boy. We celebrated his second birthday, on June 13th, 2014, in the PICU, surrounded by balloons and cards and carefully wrapped presents that he would never be able to open. We made the heartbreaking decision to remove him from life support and release his organs to help others. The way the timeline worked out, we had to say goodbye on Father's Day, June 15th, 2014. Our lives will never be the same.
What we came to find out was that his dresser, that we chose for its small size for easier access for our son to dress himself in, was poorly designed and easily tipped when the drawers were pulled out for use. We had never heard of people bolting dressers to the wall and I had never imagined that such a small piece of furniture would be dangerous. We had cabinet locks, baby gates, outlet covers, blind string covers, and safe door latches. No one had ever mentioned to us that we should bolt our furniture to the wall so it wouldn't kill our son in a tip-over. We kept nothing on top of his dresser or above it. He was taller than this dresser. He was simply opening the drawer to get to his clothing inside and this killed him. We did not hear the dresser fall, as his small body muffled the sounds. He could not scream or cry for help.
This is a problem with many dressers and wardrobes that has not been fixed by the furniture manufacturers. You cannot assume that your dresser is safe. You must do all you can to keep your child safe and attach your dresser to the wall. This CAN happen, and DOES happen, to one child every two weeks in the United States.
Note from KID: The U.S. House passed the STURDY Act in 2021. In May 2022, the Senate Commerce Committee passed the bill, and it now needs to go to the full Senate for a vote. Please take a moment to call your U.S. Senators and ask them to co-sponsor and vote in favor of the STURDY Act, which would help prevent tip-overs. Learn more about the STURDY Act here. Learn more about furniture tip-overs at Parents Against Tip-overs (PAT), and view PAT's tip-over brochure.
---
How You Can Take Action
To take action and help prevent further incidents, injuries, and deaths,
there are a number of things you can do:
Before purchasing furniture, check the recall database cpsc.gov to make sure the product hasn't been recalled by the manufacturer.
Anchor furniture and TVs to the wall so that they're less likely to tip over.
Remove tempting objects, such as remote controls and toys, from high places that children might try to climb and reach.
Check out our action steps for all children's products here.
---
More Information on Furniture
The US Consumer Product Safety Commission (CPSC) reports that in the US, a child is sent to the emergency room every 60 minutes as a result of falling furniture. These furniture tip-overs can cause a variety of injuries–head injuries, contusions, lacerations, and fractures—even death. Children between the ages of 2 and 5 are at the highest risk – their motor abilities allow them to navigate the home by themselves and their intellectual development makes them curious about objects that might be out of reach.