Family Voices — Mike's Story
A toy ball filled with a dangerous liquid injured 5-year-old Mike when it cracked and leaked fluid into his eye.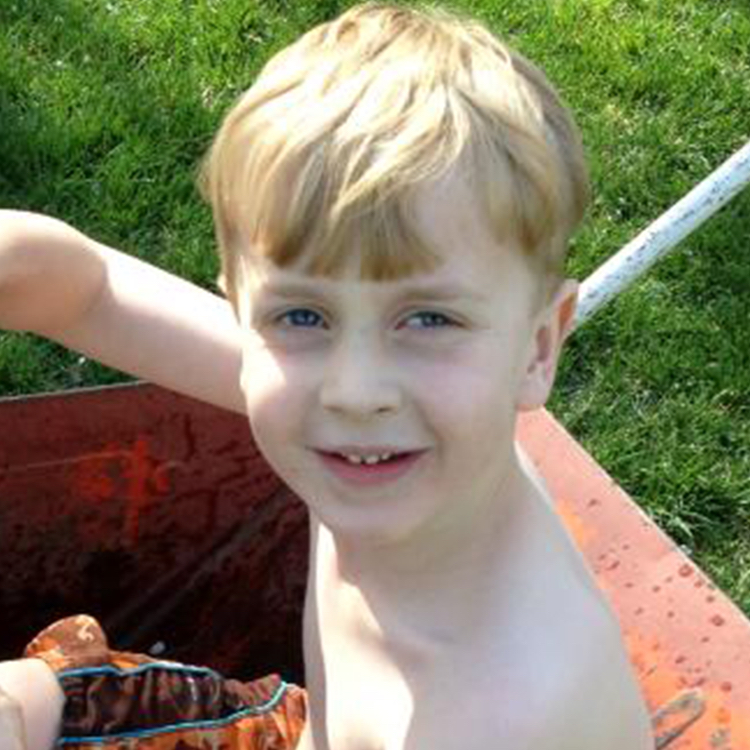 Submitted by his mother
"My son had a plastic, light-up eyeball toy given to him by his grandparent. In order for the toy to light up, the eyeball had to be smacked against a solid surface. It must have been hit against a solid surface thousands of times before that day. Looking back, it seems obvious that the plastic shell would eventually break. And on July 13, 2013, that's exactly what it did. Mike dropped the eyeball on the floor so it would light up, only this time when he put it up to his own eye in a game of pretend, he started screaming. There was something in his eye. At first we thought some of the plastic had gotten into his eye, so I rushed him to the bathroom to try and rinse it out. When Mike started screaming that it felt "like spiders were making webs and biting his eye," I thought I was washing the sliver of plastic across his eye and cutting it more. Since the rinse wasn't working, I headed to the Emergency Room.
As I rushed Mike to the ER, my husband stayed behind with our older boy. He took a look at the broken eyeball and noticed that there was no plastic missing, but there was some fluid leaking from it. The fluid smelled like kerosene. Kerosene was burning my son's eye. Later the doctors who treated my son at the ER told me that the quick water bath was probably the only thing that saved my son's eye from permanent damage. And, although they never confirmed it was kerosene that leaked into Mike's eye, it was highly likely that my son almost lost his sight in one eye to some kind of petroleum distillate.
I am relieved my son will not have any lasting physical scars, but I am furious that this happened to my family. I have since learned that similar toys have been recalled several times for similar incidents, but neither Mike's grandparent nor myself knew that. This should have never happened. I am still appalled every time I share Mike's story. Toys are supposed to meet a mandatory standard. If this toy slipped through, I'm sure others have as well. If I could get something off the shelves that would hurt somebody else, that's success to me."
What has happened since Mike's incident?
The ASTM F963 Standard Consumer Safety Specification for Toy Safety, or the toy standard, was updated in 2016. This revision added new requirements for toys with small coin/button batteries, lithium-ion batteries, toys that could expand if accidentally swallowed, ride-on toys. There are also new requirements and clarifications with respect to microbiological safety and impact hazards like the leaking ball. More information here.
---
How You Can Take Action
To take action and help prevent further incidents, injuries, and deaths,
there are a number of things you can do:
Check all toys for recalls by visiting www.CPSC.gov. You can also read safety incidents submitted by fellow consumers at SaferProducts.gov, even before a recall has been issued.
Stay up-to-date with toy standards set by the CPSC. The toy standard was most recently updated in April of 2017.
Follow age recommendations on toys and other children's products—these recommendations are set due to safety testing for choking and other hazards.
Keep children away from magnets.
If your children is experiencing flu-like symptoms (abdominal pains, nausea, vomiting, diarrhea) and/or you suspect they have swallowed a magnet, seek immediate medical attention.
Check out our action steps for all children's products here.
---
More Information on Toys
Toys are meant to provide joy and entertainment, yet many of them contain hidden hazards for children and they have been related to far too many injuries. However, toy safety has improved vastly over time. Toys had consistently been the top product type recalled by the CPSC, but in 2015 it was third (behind clothing and nursery products). There were 17 toy recalls involving over 370,000 units in 2015, which was a huge decrease from 62 recalls of over 17 million units back in 2006.