Family Voices — Ted's Story
Ted was crushed when a dresser tipped over on top of him. He was almost 2 years old.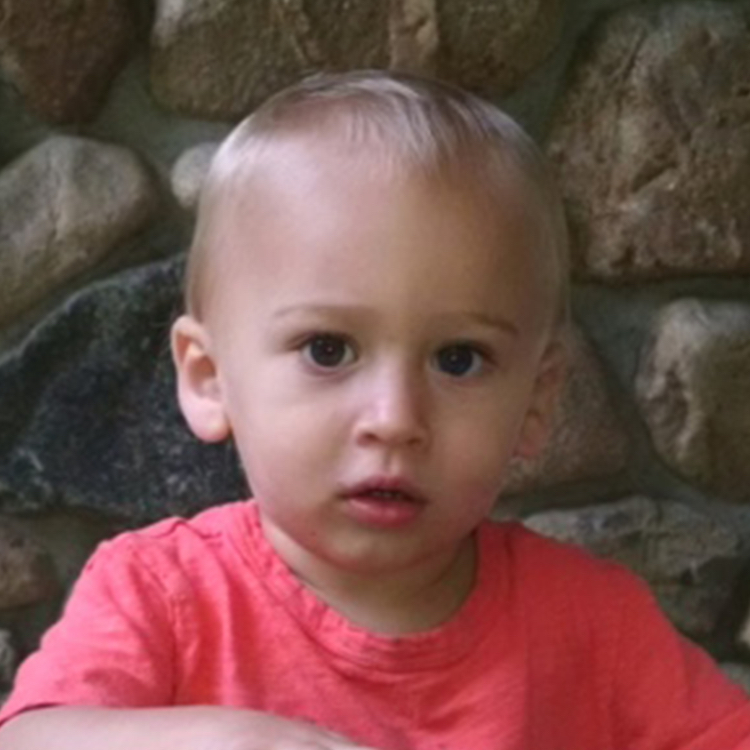 Submitted by his mother, Janet
Our day on Sunday, February 14, 2016, started out like a normal day. We went to church in the morning. Since it was Valentine's Day, the day of love, our church handed out chocolate candy on the way out. After lunch and a lot of playing, it was time for Ted to take a nap. I checked on him every 15-20 minutes. The last time I opened his door to check on him, it was quiet. As I started to open the door, I expected to see him in his bed sleeping. Instead, I saw an empty bed. As I pushed the door open further, I saw his dresser had fallen forward. Given how eerily quiet it was, I instantly knew my sweet Ted was underneath.
In the days following Ted's death we had many people come to our house to visit. Four days after he died, one of our friends asked if Ted's dresser was from IKEA, as she had heard something about IKEA dressers not being stable. I had no idea what she was talking about. I googled "IKEA dresser deaths" and my heart sank when Ted's 6-drawer IKEA Malm dresser was the first picture that showed up. I pored through all of the articles and learned that two other precious 2-year-old boys had died by the IKEA Malm dresser in 2014. We also learned the dresser had never been recalled, even despite the two deaths two years earlier. Instead, the company had launched a repair kit program in 2015 where they issued anchor kits to consumers.
We were completely heartbroken and upset that we heard about the dangers of this dresser four days too late.
What's happened since Ted's death?
In April 2016, Ted's death went public. In June 2016, after pressure from several U.S. Senators (including our MN U.S. Senator Amy Klobuchar) and consumer advocate groups (including Kids in Danger), IKEA acknowledged the problem and recalled 29 million dressers. It was said to be the largest furniture recall in U.S. history. By the time the recall took place, there had been a total of seven deaths linked to unstable IKEA dressers since 1989. In December 2016, IKEA settled with our three families and agreed to only sell chests and dressers in the U.S. that meet or exceed the national voluntary safety standards. Among several other details of the settlement, the company also agreed to increase funding for its "Secure It" program that raises awareness of the risk of tip overs.
After the 2016 recall, an additional death was identified as being a result of the recalled MALM dresser tipping over. These recalled dressers are now known to be responsible for eight deaths and at least 36 injuries, though those numbers have not been updated recently. The most recent known death occurred in May 2017 in California when a dresser tipped over, killing a 2-year-old boy.
KID and Shane's Foundation conducted research on furniture stability in 2016. Our testing shows that IKEA dressers are extremely unstable and should immediately be removed from use and returned for a refund. For Furniture Stability: A Review of Data and Testing Results, we tested 19 dressers and chests. About half of the products (including three IKEA products) failed the current industry standard testing we performed.  You can read the full report and methodology here.
Note from KID: The U.S. House passed the STURDY Act in 2021. In May 2022, the Senate Commerce Committee passed the bill, and it now needs to go to the full Senate for a vote. Please take a moment to call your U.S. Senators and ask them to co-sponsor and vote in favor of the STURDY Act, which would help prevent tip-overs. Learn more about the STURDY Act here. Learn more about furniture tip-overs at Parents Against Tip-overs (PAT), and view PAT's tip-over brochure.
---
How You Can Take Action
To take action and help prevent further incidents, injuries, and deaths,
there are a number of things you can do:
Before purchasing furniture, check the recall database cpsc.gov to make sure the product hasn't been recalled by the manufacturer.
Anchor furniture and TVs to the wall so that they're less likely to tip over.
Remove tempting objects, such as remote controls and toys, from high places that children might try to climb and reach.
Check out our action steps for all children's products here.
---
More Information on Furniture
The US Consumer Product Safety Commission (CPSC) reports that in the US, a child is sent to the emergency room every 60 minutes as a result of falling furniture. These furniture tip-overs can cause a variety of injuries–head injuries, contusions, lacerations, and fractures—even death. Children between the ages of 2 and 5 are at the highest risk – their motor abilities allow them to navigate the home by themselves and their intellectual development makes them curious about objects that might be out of reach.