Product Hazards – Bunk Beds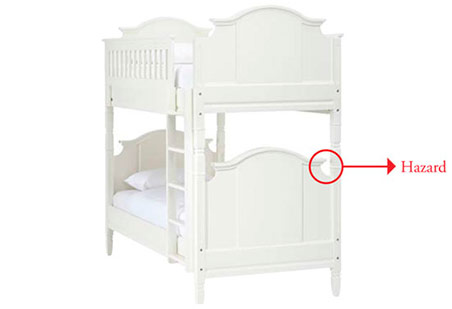 Under the Consumer Product Safety Improvement Act of 2008 bunk beds must meet new standards and additional requirements. These requirements include testing and certification for manufacturers. These rules reduce risks to children from being trapped between the upper bunk and the wall, in openings below guardrails, or in other structures in the bed.
Between 1990 and 1999, the CPSC received reports of at least 57 deaths due to suffocation when children become entrapped in spaces in the top bunk. Some bunk beds have openings large enough for a child's body to pass through, but small enough to trap the child's head.
A study about bunk bed-related injuries was published in the June 2008 issue of Pediatrics, the official journal of the American Academy of Pediatrics. The study looked at nonfatal bunk bed-related injuries treated in US emergency departments from 1990 to 2005 involving individuals under the age of 21.
The main findings of the study include the following:
An estimated 572,580 children and adolescents were treated for non-fatal injuries over the 16-year period—an average of 35,690 individuals per year.
Children under the age of six suffered the majority of the bunk bed injuries and were at the highest risk for death resulting from head entrapment and collapsing mattresses.
Lacerations were the most common type of injury (about 30%), followed by contusions and abrasions (24%) and fractures (about 20%).
The body parts most frequently injured were the head and neck.
Falls were the most common mechanism of injury (about 73%). However, while playing or sleeping children sustain injuries resulting from falls, jumps, bunk bed ladders, bed malfunctions, and striking the bed.
Bunk bed-related injuries have remained fairly consistent over the 16-year period.
---
Report an Injury or Incident to SaferProducts.gov
Do you have a product injury or incident to report? Use the button below to contact
SaferProducts.gov and help other people avoid similar experiences.
Report an Incident or Injury to SAFERPRODUCTS.GOV