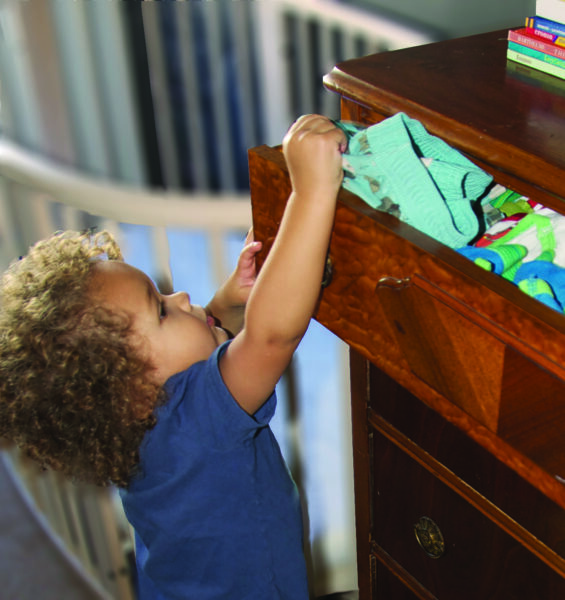 The U.S. Consumer Product Safety Commission (CPSC) reports that in the U.S., a child is sent to the emergency room every 60 minutes as a result of falling furniture. Data from a 2021 CPSC report demonstrates the scope of the problem:
Ninety one percent of these child tip-over fatalities occur in a residential setting.
Although tip-overs impact people of all ages, the incidents are more likely to be deadly when children are involved. Eighty two percent of tip-over deaths involve children.
On average, two to three children die every month as a result of falling televisions, furniture, or appliances.
These furniture tip-overs can cause a variety of injuries–head injuries, contusions, lacerations, and fractures – even death.  These incidents are often preventable, and CPSC has created the Anchor It! campaign to educate caretakers about the danger of falling furniture. Specifically, Anchor It! encourages consumers to buy sturdy furniture, secure top-heavy furniture and TVs, and purchase anti-tip hardware if it's not included with the product.
In August of 2016, KID and Shane's Foundation collaborated to publish a report on this issue: Furniture Stability: A review of data and testing. As that report outlines, there is currently no mandatory federal standard for furniture stability, and even short furniture is at risk of tipping over. KID's testing, in collaboration with Underwriter Laboratories (UL), demonstrated that the voluntary standard that is in place is inadequate for preventing tip-overs. Most incidents happen when a child climbs on furniture to reach a higher drawer or an object on top of the dresser. Children between the ages of 2 and 5 are at the highest risk – their motor abilities allow them to navigate the home by themselves and their intellectual development makes them curious about objects that might be out of reach.
In order to prevent these incidents, KID recommends:
Buy furniture with a wider base, heavier back panel, and/or interlocking drawers
Buy furniture that meets ASTM F2057-19 standard, a voluntary standard regarding furniture stability
Anchor furniture
Do not put a TV on furniture that is not intended for that use
Keep TV cables and cords out of reach
Keep objects such as toys and remote controls off of furniture so that children will not be tempted to climb up
KID and other professionals also know that we could and should be able to design furniture that is safe and stable even when not anchored to the wall. That's why we started the Teach Early Safety Testing (TEST) program. Engineering students at the University of Michigan and Northwestern University have worked to develop safer designs for dressers so that they are stable without the addition of an anchoring kit. For video presentations on some of their recent work, visit our YouTube page. Learn more about furniture tip-overs at Parents Against Tip-overs (PAT), and view PAT's tip-over brochure.
Another hazard associated with furniture is entrapment. Over 12 million cedar chests (sold under the Lane and Virginia Maid names), made between 1912 and 1987, were recalled in 1996 because the chest instantly locks when the lid is closed, and children can suffocate. These chests have caused 14 known child deaths since 1996. If you have a recalled Lane chest, remove the lock and latch or get a free replacement latch and lock through Lane's website.
---
Report an Injury or Incident to SaferProducts.gov
Do you have a product injury or incident to report? Use the button below to contact
SaferProducts.gov and help other people avoid similar experiences.
Report an Incident or Injury to SAFERPRODUCTS.GOV