Product Hazards – Baby Gates and Enclosures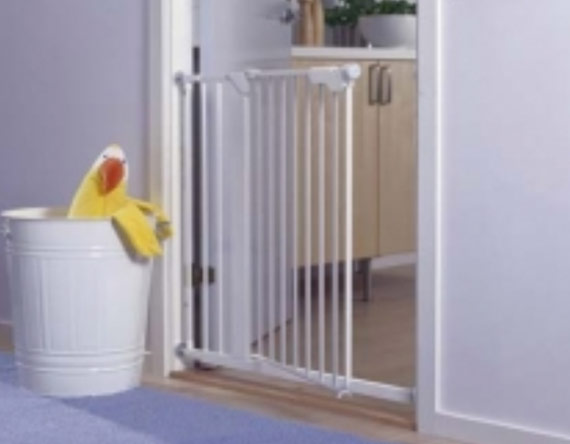 NEVER use older, accordion-style gates with large V-shaped openings along the top edge and diamond-shaped openings in the sides that are large enough to entrap a child's head and strangle the neck. At least nine children have been strangled to death by these accordion-style baby gates, including circular wooden enclosures, which were manufactured before 1985.
According to 2012-2014 data from CPSC Nursery Product Reports, an average of one child per year dies from gate-related injuries. In 2016, an estimated 2,900 emergency room treated injuries were related to gates. This is an increase from the 2,500 gate-related injuries in 2015. The most recent gate recall occured in 201; IKEA recalled 80,000 units of their Patrull safety gate, after 55 incidents were reported worldwide.
Use the right gate in each location—pressure gates, which stay in place without mounting hardware, are inadequate at the tops of stairs. Read the packaging carefully to make sure the gate will work where you intend to use it.
Recalls
A recall or a corrective action had been issued for baby gates and enclosures for various reasons including:
Plastic parts of the gate can break off into small pieces, creating a potential choking hazard to young children. In some cases, when parts break off, the gate will no longer be secure.
Plastic mounting hardware that attaches to the wall can crack or break, allowing gate to unlatch and give children access to restricted areas such as stairs, resulting in fall hazards.
---
Report an Injury or Incident to SaferProducts.gov
Do you have a product injury or incident to report? Use the button below to contact
SaferProducts.gov and help other people avoid similar experiences.
Report an Incident or Injury to SAFERPRODUCTS.GOV