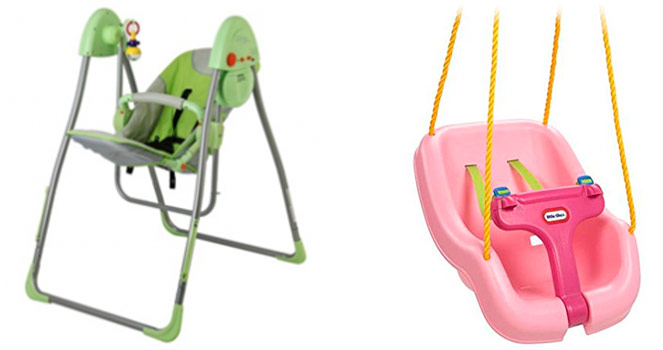 According to the CPSC Nursery Report, in 2016 there were an estimated 2,800 emergency room treated injuries that were related to portable baby swings. Between 2012-2014 there were a total of five infant deaths that resulted from either a strangulation or a fall from a portable baby swing.
Strangulation
Strangulation can occur if:
Child slips into leg openings
Child becomes entangled in the harness straps
In 2012, Dream on Me recalled infant swing due to strangulation hazard. If not buckled in, a child could slip through the opening of the seat getting trapped between the seat and the bar, which posed a strangulation hazard. There were no incidents and injuries reported.
Falls
Falls can occur if:
Handles break during use
Infants push themselves up and over the back of the seat
Straps become unfastened or separate from buckles
Handles on seat unlock unexpectedly
Latch on carrying handle unexpectedly releases and causes the seat to flip forward
Screws loosen, causing the seat to fall
Restraint shield appears to be locked when it is not
In 2017, Little Tikes recalled their toddler swings due to a fall hazard. There were 140 incidents reported of the plastic breaking. Including, 39 reported injuries.
Recall Reasons
A recall or a corrective action is issued for a swing for various reasons including:
Entrapment hazard between frame and seat
Ineffective restraint mechanisms
Buckles on swings can break
Shoulder restraint straps can pull out of the back of the seat, causing children to fall
---
Report an Injury or Incident to SaferProducts.gov
Do you have a product injury or incident to report? Use the button below to contact
SaferProducts.gov and help other people avoid similar experiences.
Report an Incident or Injury to SAFERPRODUCTS.GOV