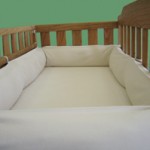 The City of Chicago became the first governmental body to ban the sale of crib bumper pads.  The ordinance, effective in 180 days, aims to remove this dangerous hazard from an infant's sleep environment.
Crib bumpers pads can cause suffocation or, in the case of older babies who can use the bumper pads as footing, falls.  The only peer-reviewed study on the issue, a report published in 2007 in the journal Pediatrics confirmed the dangers. Using data from the Consumer Product Safety Commission's (CPSC) files, Dr. Bradley Thach, a pediatrician from Washington University in St. Louis, concluded that 27 babies' deaths between the years 1985 to 2005 could be attributed to crib bumper pads.
In 1998, after Danny Keysar died in a recalled crib in child care, Chicago became the first to ban the sale of recalled products.  Illinois and other states soon followed suit, but it took until 2008 for the federal government to take the same action.  Again, on this unsafe sleep hazard, Chicago is again leading the way.
Read more in KID's release from today.