#KickBackWithKID Young Professionals Happy Hour – August 6, 2019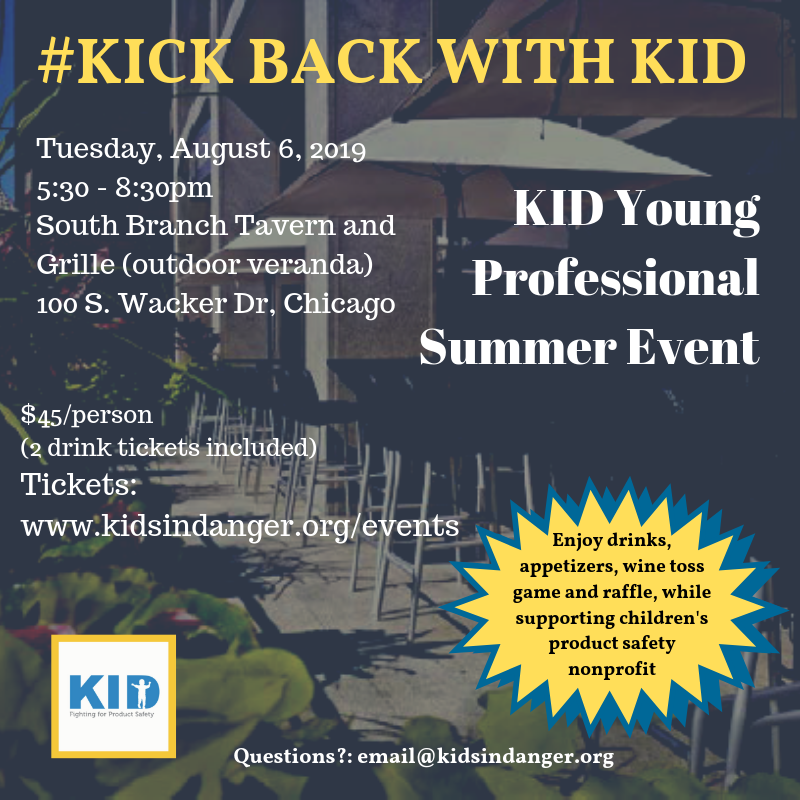 Join KID's Young Professional Board's summer fundraising event #KickBackWithKID. The event is on Tuesday, August 6, 2019 from 5:30-8:30pm at South Branch Tavern and Grille's beautiful outdoor veranda in the Chicago Loop (100 S. Wacker Dr, Chicago, IL 60606).
Enjoy drinks (2 drink tickets included and cash bar open after) and appetizers outside on the veranda overlooking the Chicago River, all while supporting KID. We'll have our popular wine toss game to win bottles of wine, and a raffle including items such as gift cards to restaurants and more. Bring your friends and enjoy the Chicago summer outside with KID!
---
Past Best Friend Awardees
2019
Nicole and Jonathan Hughes, and Morgan and Bode Miller for their advocacy in drowning prevention.
2018
Linda Ginzel and Boaz Keysar, KID Founders for 20 years of dedication to fighting for children's product safety
2017
The SEGAL DESIGN INSTITUTE AT NORTHWESTERN UNIVERSITY for its participation in KID's Teach Early Safety Testing (TEST) program.
MICHIGAN ENGINEERING AT THE UNIVERSITY OF MICHIGAN for their participation in KID's Teach Early Safety Testing (TEST) program
The INSTITUTE OF DESIGN AT THE ILLINOIS INSTITUTE OF TECHNOLOGY for its work with KID on innovations to improve recall effectiveness.
THE RUSTANDY CENTER FOR SOCIAL SECTOR INNOVATION AT THE UNIVERSITY OF CHICAGO BOOTH SCHOOL OF BUSINESS for its support of KID.
---
2016
Lisa M. Turano for her voice in support of children's product safety and philanthropic support for KID
---
2015
Barbara Guthrie for her leadership on children's safety at Underwriters Laboratories
---
2014
Inez Tenenbaum for her leadership on children's product safety
---
2013
Shawn Kasserman for his strong voice in support of children's product safety
---
2012
Sonny Garg for his instrumental role in developing responses to unsafe children's products and his strong leadership in KID
---
2011
Mitch Lipka for his commitment to reporting on children's product safety
---
2010
Gary Smith, MD for his pioneering work in the field of childhood injury prevention
---
2009
US Representative Bobby Rush and US Senator Mark Pryor for their commitment to children and leadership on product safety
---
2008
US Senator Richard Durbin for his commitment to children and leadership on product safety
---
2007
Robert Tanz, MD and Elizabeth Powell, MD, MPH for their leadership in injury prevention research and policy
---
2006
Illinois Attorney General Lisa Madigan for her enforcement of Illinois' Children's Product Safety Act and her strong commitment to children's safety
---
2005
Michigan Governor Jennifer M. Granholm for her support of the Children's Product Safety Act and advocacy for children's safety
---
2004
Rachel Weintraub and Mary Ellen Fise for their role as strong advocates for children's product safety
---
2003
Commissioner Caroline Shoenberger, State Senator Carol Ronen and US Representative Jan Schakowsky for their dedication to changing public policy to protect children
---
2002
NBC Target 5 Consumer Unit for outstanding coverage of children's product safety
---
2001
E. Marla Felcher for her groundbreaking book, It's No Accident: How Corporations Sell Dangerous Baby Products