Each year, KID commemorates our progress, honors the memory of Danny Keysar and other victims of unsafe children's products and highlights the contributions of child safety champions.
Watch live on YouTube here at 7pm CDT on Thursday, October 15.
The KID Best Friend Award Night brings together community leaders, safety advocates, families and KID supporters. The funds raised at this event allow us to continue our valuable outreach and provide a strong voice for safety.
Thursday, October 15, 2020 from 7-8pm Central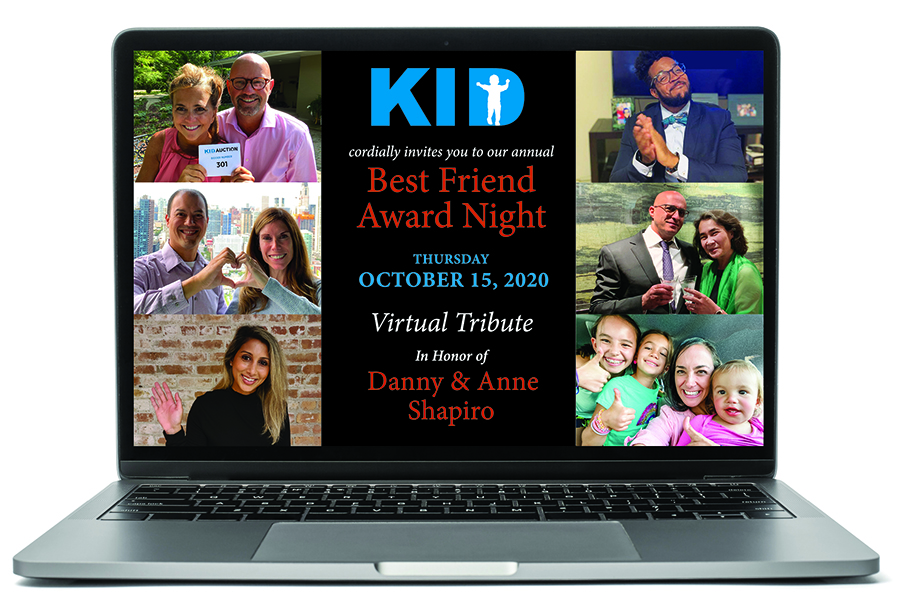 Emceed by NBC 5 Chicago's
Lisa Parker
, the virtual event features
video shorts on KID's work, inspiring messages from KID leaders and past honorees, an exciting live auction along with silent auction, raffle and more.
You can view our silent and live auction items and start bidding on October 1. We have amazing auction and raffle packages including hotel stays, scotch and wine tastings, sports memorabilia, private dinners, and more
!

Thank you to our sponsors for their support: Anne & Danny Shapiro, Tomasik Kotin Kasserman Trial Lawyers, Turano Baking Company, GATX Corp., Linda Ginzel & Boaz Keysar, Heather Mason & Perry Lentine, Ann & Robert H. Lurie Children's Hospital of Chicago, Sonny & Julia Garg, Susan Nied, Lisa Turano, and Breathable Baby. Sponsorship info here.
Check out pictures from last year's event on Flickr.
Prior to our BFA Night, we held a remarkable series of virtual events. See below for our virtual talk details and view the recordings if you missed it.
July 16, 2020
KID Board President Shawn Kasserman will speak with Dan Mann, an attorney who represents families whose children have died in IKEA furniture tip-overs along with Crystal Ellis of Parents Against Tip-overs, who lost her son to a furniture tip-over and has become a fearless advocate fighting for reform. Sponsored by Tomasik Kotin Kasserman Trial Lawyers. Watch the full recording below.
August 5, 2020
Conversation with former Best Friend Award honoree U.S. Representative Jan Schakowsky, and Remington A. Gregg, Counsel for Civil Justice and Consumer Rights of Public Citizen to discuss legislative achievements and the current regulatory environment. Sponsored by Heather Mason and Perry Lentine. Watch the full recording below.
September 17, 2020
Conversation with journalists Stephanie Zimmermann of the Chicago Sun-Times and Rachel Rabkin Peachman of Consumer Reports who have reported extensively on children's product safety and the U.S. Consumer Product Safety Commission. Moderated by KID Executive Director Nancy Cowles. Sponsored by Turano Baking Company. Watch the full recording below.
We'd like to thank the chefs, restaurants, and brewery that had generously offered to participate in our original event and we look forward to working with them again in the future: Mercadito, Gene & Georgetti, Hampton Social, Summer House Santa Monica, Mon Ami Gabi, Cafe Ba-Ba-Reeba, ROOH Chicago, NEAT Kitchen, Bub City, Cake Chicago, Revolution Brewery, BOKA Catering Group, and DineAmic Hospitality.
---
Past Best Friend Awardees
Linda Ginzel and Boaz Keysar, KID Founders for 20 years of dedication to fighting for children's product safety
2017
The SEGAL DESIGN INSTITUTE AT NORTHWESTERN UNIVERSITY for its participation in KID's Teach Early Safety Testing (TEST) program.
MICHIGAN ENGINEERING AT THE UNIVERSITY OF MICHIGAN for their participation in KID's Teach Early Safety Testing (TEST) program
The INSTITUTE OF DESIGN AT THE ILLINOIS INSTITUTE OF TECHNOLOGY for its work with KID on innovations to improve recall effectiveness.
THE RUSTANDY CENTER FOR SOCIAL SECTOR INNOVATION AT THE UNIVERSITY OF CHICAGO BOOTH SCHOOL OF BUSINESS for its support of KID.
---
2016
Lisa M. Turano for her voice in support of children's product safety and philanthropic support for KID
---
2015
Barbara Guthrie for her leadership on children's safety at Underwriters Laboratories
---
2014
Inez Tenenbaum for her leadership on children's product safety
---
2013
Shawn Kasserman for his strong voice in support of children's product safety
---
2012
Sonny Garg for his instrumental role in developing responses to unsafe children's products and his strong leadership in KID
---
2011
Mitch Lipka for his commitment to reporting on children's product safety
---
2010
Gary Smith, MD for his pioneering work in the field of childhood injury prevention
---
2009
US Representative Bobby Rush and US Senator Mark Pryor for their commitment to children and leadership on product safety
---
2008
US Senator Richard Durbin for his commitment to children and leadership on product safety
---
2007
Robert Tanz, MD and Elizabeth Powell, MD, MPH for their leadership in injury prevention research and policy
---
2006
Illinois Attorney General Lisa Madigan for her enforcement of Illinois' Children's Product Safety Act and her strong commitment to children's safety
---
2005
Michigan Governor Jennifer M. Granholm for her support of the Children's Product Safety Act and advocacy for children's safety
---
2004
Rachel Weintraub and Mary Ellen Fise for their role as strong advocates for children's product safety
---
2003
Commissioner Caroline Shoenberger, State Senator Carol Ronen and US Representative Jan Schakowsky for their dedication to changing public policy to protect children
---
2002
NBC Target 5 Consumer Unit for outstanding coverage of children's product safety
---
2001
E. Marla Felcher for her groundbreaking book, It's No Accident: How Corporations Sell Dangerous Baby Products