2022 KID Best Friend Award Night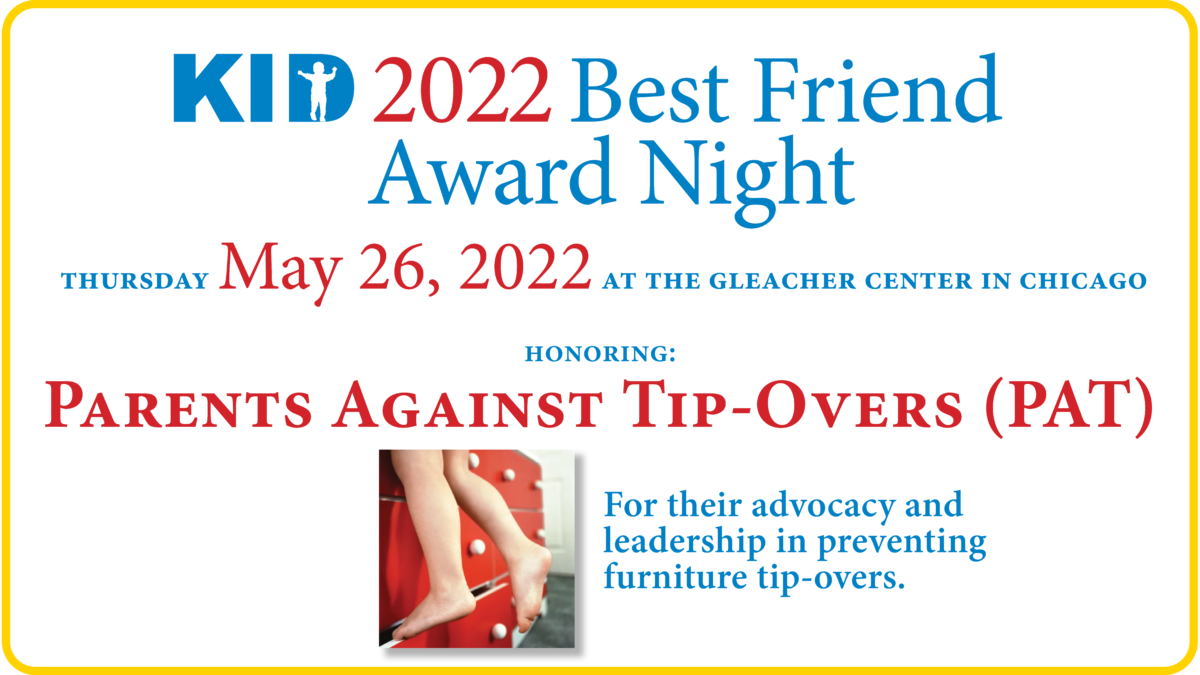 KID Best Friend Award Night – May 26, 2022
KID held our annual Best Friend Award (BFA) Night on Thursday, May 26, 2022, from 6-8:30pm CT at the Gleacher Center in Chicago. The event was also live-streamed for those who couldn't attend in person. The BFA Night marks our progress, honors the memory of Danny and other victims of unsafe children's products, and celebrates champions of children's safety. The BFA Night is KID's primary annual fundraising event and the proceeds support our lifesaving programs year-round.
We were delighted this year to honor Parents Against Tip-Overs (PAT). The organization consists of parents of young children who have lost their lives from a furniture tip-over incident, and has been a true ally over the years to push for changes in child product safety. PAT's mission to strengthen tip-over prevention through advocacy work and by educating others has played a significant role in advancing The STURDY Act, and getting the Consumer Product Safety Commission (CPSC) to move forward with a strong rule that will make dressers safer.
Guests enjoyed a fun-filled evening with drinks and small bites from Wolfgang Puck Catering, live music, wine toss, auction, and raffle, and heard from Congresswoman Jan Schakowsky and KID Executive Director Nancy Cowles about program updates as well as KID's upcoming Design Safety Toolkit.
Thank you to our sponsors: Feldman Shepherd LLP, Tomasik Kotin Kasserman Trial Lawyers, Turano Baking Co., Linda Ginzel & Boaz Keysar, Jeremy McGee & Janet McGee in Memory of Ted McGee, GATX Corp., Consumer Reports, Amazon, Breathable Baby, Engineering Systems Inc., IKEA, The Landgraf Family Foundation, The Lineweaver Trust, Kelly's Pub, The Philip H. Corboy Foundation, Julia Harris Garg & Sonny Garg, Ira Weiss, Susan Nied, and Holly Raider & Jerold Lavin.
You can watch the live stream on YouTube here. If you missed the event, you can still make a donation here.
---
Past Best Friend Awardees
Dr. Erin Mannen for her groundbreaking infant sleep research that has led to policy changes and saved lives.
Linda Ginzel and Boaz Keysar, KID Founders for 20 years of dedication to fighting for children's product safety
2017
The SEGAL DESIGN INSTITUTE AT NORTHWESTERN UNIVERSITY for its participation in KID's Teach Early Safety Testing (TEST) program.
MICHIGAN ENGINEERING AT THE UNIVERSITY OF MICHIGAN for their participation in KID's Teach Early Safety Testing (TEST) program
The INSTITUTE OF DESIGN AT THE ILLINOIS INSTITUTE OF TECHNOLOGY for its work with KID on innovations to improve recall effectiveness.
THE RUSTANDY CENTER FOR SOCIAL SECTOR INNOVATION AT THE UNIVERSITY OF CHICAGO BOOTH SCHOOL OF BUSINESS for its support of KID.
---
2016
Lisa M. Turano for her voice in support of children's product safety and philanthropic support for KID
---
2015
Barbara Guthrie for her leadership on children's safety at Underwriters Laboratories
---
2014
Inez Tenenbaum for her leadership on children's product safety
---
2013
Shawn Kasserman for his strong voice in support of children's product safety
---
2012
Sonny Garg for his instrumental role in developing responses to unsafe children's products and his strong leadership in KID
---
2011
Mitch Lipka for his commitment to reporting on children's product safety
---
2010
Gary Smith, MD for his pioneering work in the field of childhood injury prevention
---
2009
US Representative Bobby Rush and US Senator Mark Pryor for their commitment to children and leadership on product safety
---
2008
US Senator Richard Durbin for his commitment to children and leadership on product safety
---
2007
Robert Tanz, MD and Elizabeth Powell, MD, MPH for their leadership in injury prevention research and policy
---
2006
Illinois Attorney General Lisa Madigan for her enforcement of Illinois' Children's Product Safety Act and her strong commitment to children's safety
---
2005
Michigan Governor Jennifer M. Granholm for her support of the Children's Product Safety Act and advocacy for children's safety
---
2004
Rachel Weintraub and Mary Ellen Fise for their role as strong advocates for children's product safety
---
2003
Commissioner Caroline Shoenberger, State Senator Carol Ronen and US Representative Jan Schakowsky for their dedication to changing public policy to protect children
---
2002
NBC Target 5 Consumer Unit for outstanding coverage of children's product safety
---
2001
E. Marla Felcher for her groundbreaking book, It's No Accident: How Corporations Sell Dangerous Baby Products