Get Involved
KID couldn't fight for safety without the support of our volunteers and donors.
At KID, our mission is to fight for and win safe products—and you can, too. Become a volunteer, make a tax-deductible donation, or put together a fundraising event to help us save lives. As a nonprofit, we owe much of our success to volunteers and generous donations from supporters such as yourself. Read below to learn more about ways to get involved with KID!
KID is currently hiring a Program Associate to work on our outreach and education. The Program Associate will build KID's capacity in engaging the public in our work. This includes web-based communications (social media, blogs, website, email alerts), grassroots fundraising, advocacy and outreach to parents and caregivers. Click here to view the full job description and application instructions.
Volunteer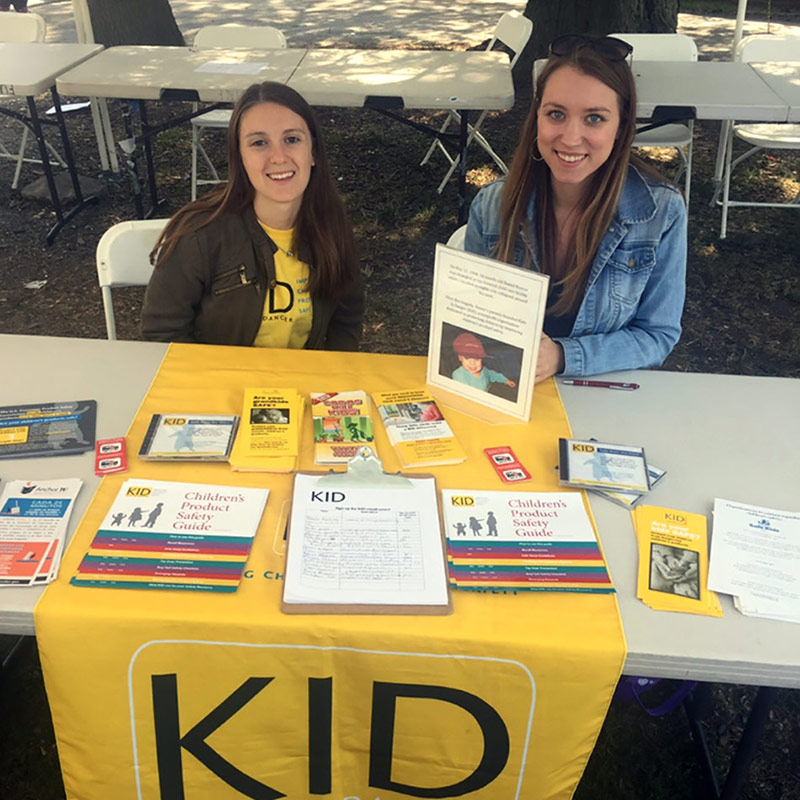 KID is a small organization, which relies heavily on the help of volunteers within our community. If you are looking to volunteer with KID, we have a variety of opportunities available. Whether you are looking to come into the office on a regular basis or looking for a more flexible or out of office opportunity, we have something that will work for you!
To learn more about our current opportunities or to start volunteering with KID, visit our Volunteer page.
Fight for Product Safety
In addition to educating parents and caregivers about product safety issues, KID also advocates for children within the product safety system. Often, we need your support to make our message heard. Join the KID Action Team to stay up to date on advocacy items that require your support. KID is currently hiring a Program Associate to work on our outreach and education. The Program Associate will build KID's capacity in engaging the public in our work. This includes web-based communications (social media, blogs, website, email alerts), grassroots fundraising, advocacy and outreach to parents and caregivers. Click here to view the full job description and application instructions. Click the button below to learn more about how you can join the fight for product safety.
Fight for Product Safety
Young Professionals Board
Are you a working young professional looking to gain leadership experience while having fun? Consider applying for KID's Young Professionals Board and meet some of KID's YP Board members.
Learn More
Tyler's Teddies
Do you want to help raise money for KID at your school? Tyler's Teddies is a fundraiser that was started by middle school teacher Michele Witte after her son, Tyler, died when he was 10 months old after being entrapped by a faulty drop-side crib. His story has people all over America paying it forward by raising awareness and supporting laws that keep kids safe! Those who purchase a teddy are encouraged to either keep it and promise to share kindness or give it to a family member or friend and ask them to do a random act of kindness in return, and the proceeds go to KID. This is a perfect fundraising activity for a school classroom, club, or community to organize.
Learn More
Donate
KID can't do our life-saving work without your support. Your dollars enable us to reach more caregivers with our lifesaving materials, or to travel to Springfield to testify on crucial product safety legislation. There are so many ways to support KID.
Donate
Subscribe to Our Newsletter
Add your name to the KID email list to receive news about recalls, children's product safety and KID.
Email Signup