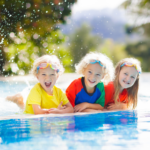 July 25th was World Drowning Prevention Day, and we're sharing some tips to keep your kids safe. Drowning is one of the leading causes of death globally for children and in the U.S. it is the leading cause of injury related death for children 1-4. Earlier this summer the U.S. Consumer Product Safety Commission (CPSC) released their annual drowning and submersion report. The report showed that fatal and non-fatal drownings remained high among children under the age of 15 and drownings remain a leading cause of accidental deaths among children in America.
Drownings can happen anytime, so take precaution and follow these guidelines to protect your little ones this summer:
Supervise young children when around water. Do not rely on the use of water wings, swim rings, inflatable toys or other items designed for water recreation to replace close adult supervision – staying within reach of any non-swimmers.
Teach children how to swim. Swimming is a valuable skill that could save your child's life, not to mention all the fun and health benefits it can bring. The AAP supports swimming lessons for most children 4 years and older, and for children 1 to 4 years of age who are ready to learn how to swim.
Check pools for drain covers over every drain. Drains can pose a risk of entrapment if a child gets a limb or long hair stuck in the suction. Teach children to avoid the area around pool drains.
A four-foot fence with a self-locking gate is the best protection for backyard pools. Surround all four sides of the pool. Smaller inflatable pools that cannot be fenced should be drained after each use.
Learn how to perform CPR, both on children and adults. Be prepared if a time comes where it is essential.
Check gov for recalls of life jackets, pool toys and pool equipment.
Learn more about water and pool safety at the WHO International Drowning Prevention Day Campaign, and the CPSC's site PoolSafely.gov.