2011 Best Friend Award Night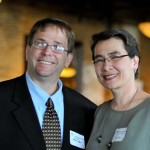 2011 Best Friend
Award Night
Thursday May 19, 2011

FULTON'S ON THE RIVER
315 N. LaSalle St., Chicago
6:00-8:30PM
Visit our Flickr page for more photos of the amazing Chefs and their offerings as well as event highlights.
On May 19, 2011 KID marked a year of victories in children's product safety and honored Mitch Lipka, Consumer Columnist, as our 2011 Best Friend for his commitment to reporting on children's product safety. From his series in the Sun-Sentinel in 1999 that was one of the earliest and strongest investigations of children's product safety to his continued reporting on recalls, regulations and safety, Mitch has always provided accurate information to the public, playing a crucial role in keeping children safe.
This year, the energy level of the event was raised with exciting tasting menus from top Chicago chefs. Many thanks to the generous and creative chefs. The offerings delighted KID's supporters at the event.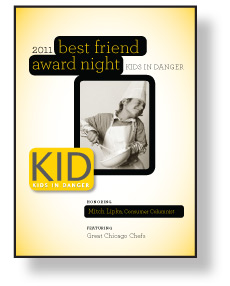 Many Thanks to our participating chefs from: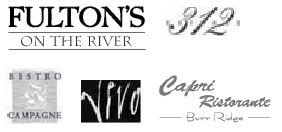 BEST FRIEND AWARD SPONSORS
Champion Sponsors

Advocate Sponsors

Linda Ginzel & Boaz Keysar
Myung Ja Ginzel
Barbara Passy
Sonny and Julia Garg
The Burt Family
The Batterson Family
Supporter Sponsors


Caroline Shoenberger
Steve and Leslie Swibel
The Injury Prevention and
Research Center at Children's
Memorial Hospital
Bruce Pfaff
Amy & Rick Michelon
Karen Sheehan