Family Voices — Andy's Story
Andy suffocated on a sleep positioner. He was two months old.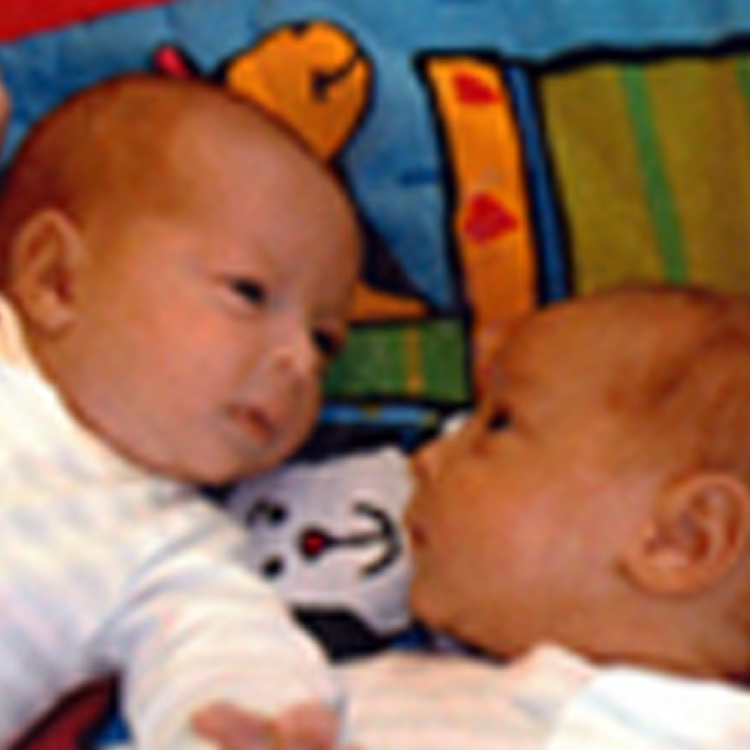 Submitted by his mother, Judy
"Andy was born first on November 11, 2001. He was born 2 minutes before his brother Jake. They were two beautiful boys with such great lives ahead of them.
On January 8, 2002, Andrew died a tragic death because of a foam sleep positioner (the Graco 2 in 1 curved sleep positioner). This device was developed in the 70s and approved by the FDA to prevent the rise of SIDS. It was supposed to encourage back or side sleeping — "The Back to Sleep Campaign."
Sleep positioners are extremely dangerous. Tell anyone you know with a newborn not to use it.
With the slight movement of a baby's head like Andy, the nose and mouth can be obstructed and suffocation will occur. This is exactly what happened to my Andy. He was taken from us and his brother Jake. Had I not used the positioner I feel certain Andy would be here — smiling. But, instead he is going to smile on all of us and help us make a difference for other new parents so they do not have to face a similar tragedy."
What's Happened Since Andy's Death?
Between 1997 and 2010, CPSC received 12 reports of infants between the ages of 1 month and 4 four months who died when they suffocated in sleep positioners or became trapped and suffocated between a sleep positioner and the side of a crib or bassinet. Andy was one of these fatalities.
In September 2010, the CPSC and FDA issued a strongly worded warning urging parents to stop using sleep positioners. They asked caregivers to rely on tested methods to reduce the risk of SIDS — back sleeping, bare crib, non-smoking household among others. After the warning in September 2010, manufacturers stopped making the product and retailers stopped selling them for the most part. Still, despite the death toll, sleep pillows or positioners are commonly sold online. Here at KID we are dedicated preventing online purchases of hazardous products through family education. It's also up to brave families, like Andy's  family, to take action against these harmful products by sharing their stories and advocating against harmful products.
Similar to sleep positioners, bumper pads pose a similar risk to an infant's sleep space. They can pose suffocation, strangulation, and choking hazards. They pose a suffocation risk if a baby's face is pressed against the bumper or wedged between the bumper and the crib side or mattress. Between 1990 and 2016, the CPSC reported 107 fatal and 282 non-fatal incidents involving bumper pads. Following the report, CPSC commissioner released a statement calling bumper pads "deadly clutter" in our nation's cribs. Kids in Danger recommends removing bumper pads and other soft items from your child's crib. In May 2022, Congress passed the Safe Sleep for Babies Act which will ban the manufacture and sale of padded crib bumper pads.
---
How You Can Take Action
To take action and help prevent further incidents, injuries, and deaths,
there are a number of things you can do:
Follow safe sleep practices in your home and tell other families about them. The safest way for babies to sleep is on their backs in a bare crib with a tight-fitting mattress. All other crib bedding products – crib bumpers, sleep positioners, comforters, pillows, or toys – can increase an infant's risk of strangulation, suffocation, and SIDS. #BareIsBest
Don't be fooled by marketing that claims some crib bumper pads are safer or "breathable" – even bumper pads that meet industry standards have been known to result in injury or death. For more information, visit our product hazard page on crib bumper pads.
Check out our action steps for all children's products here.
---
More Information on Bumpers and Sleep Positioners
Crib bumpers, or bumper pads are not safe for infants. They can pose suffocation, strangulation, and choking hazards. They pose a suffocation risk if a baby's face is pressed against the bumper or wedged between the bumper and the crib side or mattress. Additionally, bumpers have been recalled because the strings used to attach them to the crib can pose a strangulation hazard, or detach and pose a choking hazard. The bumper may also restrict the movement of fresh air in the crib.