Federal Product Safety Sites
National Consumer Organizations
Safety Resources
State Child Safety Sites
KID Linking Policy
Providing vital safety information is an important part of KID's mission to educate the public about the children's product safety. We encourage
like-minded organizations, associations and others to provide a link to KID and will consider additional links on this page as outlined below.
Links TO www.KidsInDanger.org
KID welcomes links to our site. If you decide you would like to link to KID, please:
Inform us that you would like to link to KID
Do not position the link in such a way that implies KID's endorsement for a product or activity
Include the following text:
Kids In Danger is a nonprofit organization dedicated to protecting children by improving children's product safety.
And/or copy and paste the following graphic:

If you save the image as "images/KID_logo.png", this is how the link might look in your HTML document:
<A HREF="https://kidsindanger.org"><IMG SRC="http://www.YOURSITENAME.com/images/KID_logo.png";BORDER="0" alt="Kids In Danger"></A>
You can also use some of our advertisements as links from your site to KID, simply save the images below and link back to our site.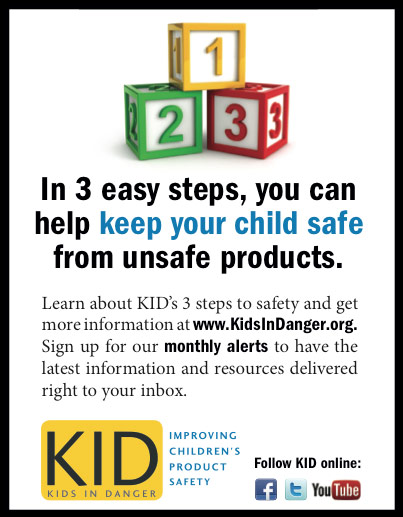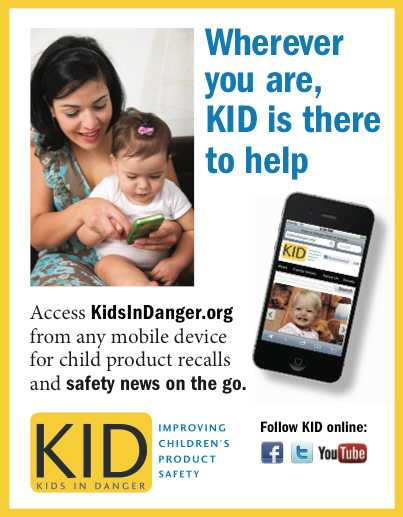 Links FROM www.KidsInDanger.org
In keeping with our mission to educate the public about the dangers inherent in juvenile products, KID aims to provide our users with links to
high-quality web sites containing pertinent child safety information and links that are otherwise of interest to our users and related to KID's mission
and purpose.
KID will evaluate link requests on a case-by-case basis.
Link requests and questions about links to or from www.KidsInDanger.org should be directed to email@KidsInDanger.org.