Product Hazards – High Chairs and Booster Seats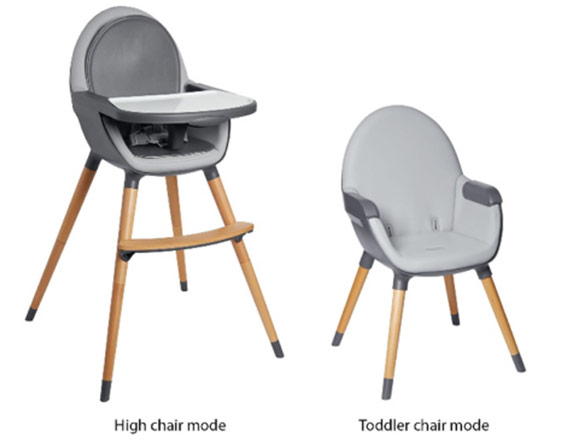 In 2016, there have been an estimate of 13,400 high chair related injuries among children under the age of 5, according to CPSC Nursery Product reports. Babies can slide downward in the highchair seat and be strangled when their heads are caught on the trays or waist belt and crotch strap. On average, one child dies each year in high chairs.
The most recent recall occured on January 9, 2018. The Skip Hop Tuo Convertible High Chair was recalled due to the front legs of the chair being able to detach, causing a hazard for falling or injuries. They received 13 reports of the legs detaching, two of the incidents let to bruising on the child.
A recall or a corrective action has been issued for high chairs and booster seats for various reasons including:
Risk of falling due to restraint bar failure
Plastic joints that can crack and cause the product to collapse in use
Leg strap that could be pulled through enabling a child to fall
Belt sets that cannot be tightly secured
Inadequate fit between the seat and base, allowing the seat to slip or fall
More Information on High Chairs and Booster Seats
---
Report an Injury or Incident to SaferProducts.gov
Do you have a product injury or incident to report? Use the button below to contact
SaferProducts.gov and help other people avoid similar experiences.
Report an Incident or Injury to SAFERPRODUCTS.GOV