Product Hazards – Portable Cribs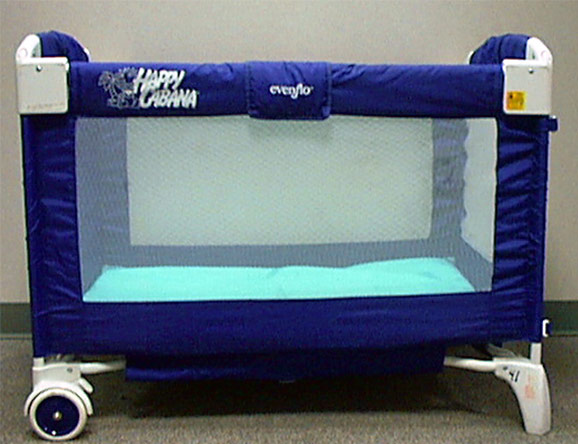 Portable cribs are often used in childcare facilities or in smaller spaces. They are cribs that are smaller than full-size cribs and can often be collapsed for ease of mobility. Portable cribs do not have mesh/net/screen or other non-rigid construction. Items with these materials are considered play yards. Portable or non-full size cribs adhere to the crib standards which went into effect June 28, 2011. To ensure your child's safety be sure to buy a portable crib that was made on or after June 28, 2011.
In a 2002 CPSC report, 156 crib-related deaths were reported to CPSC. Of these deaths, 17 involved non-full sized or portable cribs and 77 involved cribs of unknown type. Many of these deaths were as a result of the manufacturing malfunctions that would result in the child becoming entrapped in the side of the crib or strangled.
According to a KID report, for the first time in ten years no cribs were recalled in 2016. This demonstrates that 2010's mandatory crib standards have a positive effect on crib safety.
Recalls
Historically, a recall or a corrective action had been issued for other portable cribs and play yards for various reasons:
Risk of serious injury or death if mis-assembled
Choking or entanglement hazards
Head entrapment or suffocation
Risk of injury from tipping when legs on the product become loose and separate.
19 Deaths—The Horrific Legacy of Portable Cribs
Playskool Travel-Lite
Arnold, 1991
Elissa, 1992
Elizabeth, 1993
William, 1995
William, 1998
Baby Trend
Zachary, 1993
Jordon, 1994
Troy, 1996
Dominick 1999
Century
Nicholas, 1996
14 mo old girl, 2005
Euan, 2007
Evenflo
Tyler, 1994
Ashton, 1995
2 year old boy, 2003
---
Report an Injury or Incident to SaferProducts.gov
Do you have a product injury or incident to report? Use the button below to contact
SaferProducts.gov and help other people avoid similar experiences.
Report an Incident or Injury to SAFERPRODUCTS.GOV