Product Hazards – Walkers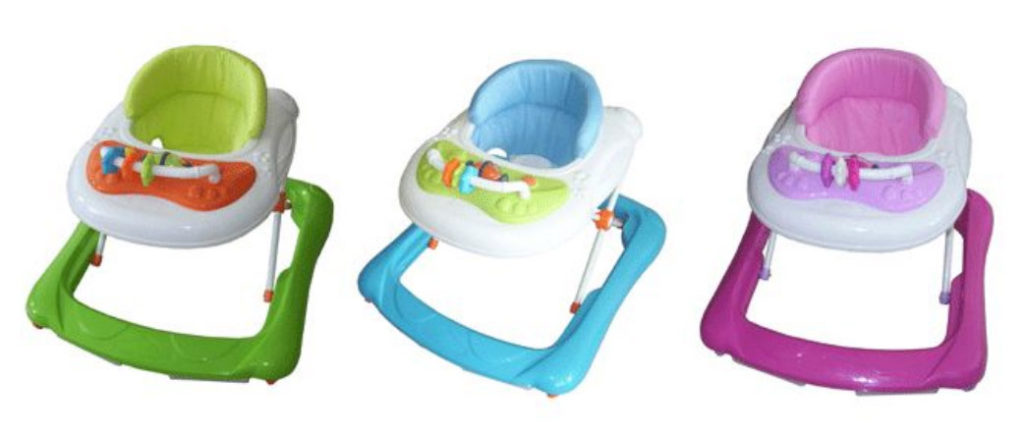 CPSC estimates that each year there are 2,900 hospital emergency room treated injuries associated with baby walkers for children under 15 months of age. Most injuries are caused by falling down stairs. Walkers have also been involved in 34 deaths since 1973. According to the CPSC, in 2016 alone there were 2,200 injuries among children under age five due to walkers, jumpers and exercisers. This number is down from the 2,900 incidents reported in 2015. Walkers are banned in Canada.
In 2010, CPSC adopted a mandatory standard for walkers to address some of the hazards. However, many doctors still warn against the use of walkers. The most recent recall of an infant walker occured in 2014 due to a fall and entrapment hazard. In walkers, children can be injured by falling down stairs as well as reaching up and pulling hot or other dangerous items onto themselves. In addition, doctors have concerns about developmental issues. Consider a stationary entertainer unit instead.
A recall or a corrective action has been issued for walkers and stationary entertainers for various reasons including:
Brackets may break during use, causing the product to collapse
Screws can come loose, presenting a choking hazard to young children
Laceration risk due to sharp edges
Walkers can fit through a standard doorway and are not designed to stop at the edge of a step
Stationary entertainers and walkers can collapse unexpectedly during use
Walkers can tip over
More Information on Walkers and Stationary Entertainers
---
Report an Injury or Incident to SaferProducts.gov
Do you have a product injury or incident to report? Use the button below to contact
SaferProducts.gov and help other people avoid similar experiences.
Report an Incident or Injury to SAFERPRODUCTS.GOV