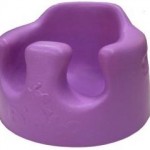 The Consumer Product Safety Commission today is again urging parents to use caution when using Bumbo Baby Seats.  In October of 2007, the CPSC issued a recall of this same product in order to provide new warning labels which stated that Bumbo Baby Seats should not be placed on any elevated surfaces. While the older products did have a small warning, product packaging and online testimonials at the product site touted its use on counters and tables.
The first recall came after a reported 28 children were injured. Three of the injuries were skull fractures. Today's statement was prompted by reports of another 45 infants falling from elevated surfaces since the first recall. Of these incidents, 17 children suffered from skull fractures. Furthermore, the CPSC and Bumbo International were made aware of an additional 50 children who had fallen from these seats while on the floor or undisclosed elevations. Several of the children who fell from the chair on the floor also suffered serious head injuries.
No infant seats (including child carriers, car seats, etc.) should be placed on elevated surfaces while in use as there the risk of falls is high. Given that some of the injuries are occurring even on the floor with the Bumbo seat, use extreme caution or choose another seat. To report an injury from the Bumbo Baby Seat or any product, visit SaferProducts.gov.