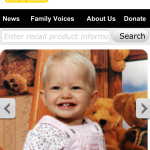 Today, Kids In Danger (KID) announces the release of its new mobile website. The new site, accessible by visiting KidsInDanger.org from any mobile device, combines the life-saving information of the KID desktop website with WeMakeItSafer's robust Recalled Product Search application.
For both organizations, making product safety and recall information more accessible is a key component to their missions. Working together to bring a comprehensive, user-friendly recall search to consumers, wherever they may be, was a natural fit. 
"When we began the research and development for WeMakeItSafer back in 2007, KID was the only organization addressing the problems associated with getting product recall information into the hands of consumers," said Jennifer Toney, CEO of WeMakeItSafer.  "We have tremendous respect for KID's work and were honored when they asked to use our technology for their new mobile site."
The purpose of incorporating the recall search into the mobile website was to ensure parents can access information about recalled products on the go, for example, when they are shopping at garage sales or flea markets.
 "We chose WeMakeItSafer to power our search because, unlike other recall search applications, WeMakeItSafer has the technology to capture all of the CPSC recalls," explained Nancy Cowles, KID's Executive Director. "We wanted to make sure site visitors could rely on our search results."
In addition to the Recall Product Search application, the mobile site includes KID's Three Steps to Safety to give caregivers the tools they need to keep children safe; Family Voices, stories from families who have suffered from unsafe products; and other key features of KID's award-winning website.  It also allows parents to support KID's efforts through a streamlined donation application.
The new mobile website was built by Table XI , a Chicago based web-application development firm.  Table XI partnered closely with KID and WeMakeItSafer to design and deliver a site that is both easy to use and accessible on all mobile devices. "We are very proud to be a part of this team", explains Mark Rickmeier, Table XI's COO. "I'm glad we can help bring this kind of tool to the parenting community." 
The site was unveiled Thursday at the KID Best Friend Award Night, an annual event that honors the memory of Danny Keysar and other victims of unsafe children's products, in addition to highlighting the contributions of a "Best Friend" to children's safety. This year, KID recognized the efforts of Sonny Garg for his instrumental role in developing local and national responses to unsafe children's products and for his strong leadership as a board and advisory board member for KID.
WeMakeItSafer says that the mobile version of its recall search tool, also known as a "Recall Finder" is now available to any company, organization or website interested in providing this valuable tool in a mobile format.  The mobile version of the Recall Finder, as well as the full website version, can be found in WeMakeItSafer's Publisher Tools section. Both versions are free.