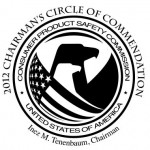 Chairman Tenenbaum presented the 2nd annual Chairman's Commendation Award today. This award is presented annually to identify and honor people, organizations, businesses, state and local governments and other groups who have worked to reduce deaths, prevent injuries and improve consumer product safety. Nancy Cowles of KID received the award last year.  
"These individuals deserve to be recognized for their hard work to advance consumer product safety. They have saved countless numbers of lives through their advocacy, working to educate parents and industry, making toys safer with better labeling and safe cribs available to families who couldn't afford one," said Chairman Tenenbaum.
KID would like to especially congratulate Rachel Weintraub, Director of Product Safety and Senior Counsel for the Consumer Federation of America. Linda Ginzel, KID's president and co-founder, nominated Rachel for the award because of our strong respect for her work.   Rachel led our coalition of consumer, public health and public interest groups that worked with Congress to pass strong new safety measures.  She has spent more than a decade being the leading advocate for consumers and combines incredible knowledge of the law and regulations with compassion and a sense of integrity that ensure her work will have great impact.
Rachel has worked closely with the parents of children injured or killed by unsafe products.  "Their parents have turned the unspeakable tragedy of losing a child into advocacy. I have partnered with them on so many important issues to prevent other families from suffering their loss."
Judith Bannon, the Executive Director of Cribs for Kids, also received the Award. Cribs for Kids, is a national network of partners that has provided more than 130,000 free, safe cribs to high-risk, low-income families who cannot afford one, and educates caregivers about the dangers of unsafe sleep environments. KID has partnered with Cribs for Kids and Safe Kids to form CAUSE, Coalition Against Unsafe Sleeping Environments and know Judy's commitment to safety first hand. 
In addition, the Award was also presented to Dr. Ik-Whan Kwon, director of the Center for Supply Chain Management Studies at St. Louis University for their innovative product safety training to industry and Stephen Teret, Professor at Johns Hopkins Bloomberg School of Public Health for work on injury prevention.  All are worthy recipients who have improved safety for all.