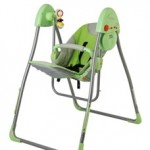 We all know how important an infant swing can be in the first months with a new baby.  Sometimes it seems it is the only thing that can soothe a fussy baby.  Now, CPSC has adopted a new safety standard that can give parents assurance that the swing is safe.  
Since 2000, there have been six swing recalls with over 400 reports of injuries and six deaths.  Trevor died in 2002 when he became entangled in the restraint straps of a recalled swing.  CPSC estimates that 2300 emergency room visits a year involve incidents with infant swings. There are currently more than 20 reports on SaferProducts.gov involving infant swing incidents reported by consumers. 
The new standard adds additional warnings to keep the smallest babies safe from slumping over and possible asphyxiation as well as tougher requirements to prevent tip-overs, entanglement in restraint straps, breakage or battery leakage.  Swings manufactured after May 7, 2013 must meet the new standard.