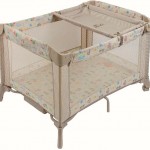 The month of February will be ending on a very high note for children's product safety. As of February 28, 2013 all play yards manufactured for sale in the United States must meet mandatory federal safety standard for the first time. This has been a long day coming for KID who celebrated the unanimous decision in favor of new safety standards by the CPSC last June. Make sure to read our blog post and check out our pictures from the event.
These new provisions have been put in place to prevent injuries and deaths to children. Since 1985, millions of play yard units have been recalled and dozens of children have died as a result of unsafe play yards. Danny Keysar, whose parents founded KID in 1998, was one of 19 children to die from one faulty design which allowed side rails to collapse into a v-shape.
The new federal standard incorporates the current industry standard from ASTM International but also address three additional problem areas associated with play yards including: side rails, corner brackets, and mattress attachments. The new mandatory tests include a stability test to prevent the play yard from tipping over, latch and lock mechanisms to keep a play yard from folding in on a child when the product is in use, and minimum side height requirements to prevent the child from getting out of the play yard on their own. These increased safety measures are aimed to prevent strangulation, entrapment, and lacerations among other injuries.
The play yard standard is a huge victory for children product safety. Both the new play yard standard and 2011's strong crib standard are a direct result of the new requirements established as part of Danny's Law, which was introduced in 2001 and named after Danny Keysar. The law requires CPSC to develop and enforce mandatory safety standards for most durable infant and toddler products.
Many concerned parents and caregivers might be wondering if their play yards meet the new standard. There are two ways to see if a play yard meets the new regulations. First, by the date of manufacture, which should appear on the tracking label or product registration card. A manufacture date after February 28, 2013 will confirm that your play yard meets the new standard. Secondly, consumers can contact the manufacturer of their product to determine to which standard their product has been certified. Spread the word about this tough new standard to other parents and caregivers by sharing CPSC's new poster promoting play yard safety.