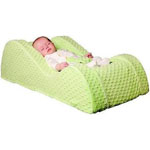 On Friday, the US Consumer Product Safety Commission (CPSC) and Baby Matters LLC announced a settlement of the administrative case CPSC filed late last year after five deaths in the infant sleep product.  In addition to the deaths, there were 92 incidents in which babies fell partially out of the product into potentially dangerous positions.
As part of the settlement, all Nap Nanny products have been recalled by the company.  Unfortunately, the company is not standing behind their product with a refund, but consumers who purchased the product from select retailers can obtain a refund through the earlier announced recall by those retailers.
KID recommends that parents and caregivers stop using these products and return them to retailers for a refund.  If it wasn't purchased from a participating retailer, the product should be fully destroyed and discarded so others can't inadvertantly use the dangerous sleep product.
The safest place for a baby to sleep is in a crib, bassinet or play yard that meets current safety standards.  Products such as the Nap Nanny often prove dangerous when they are put on the market prior to meeting any safety standards.
Read more here from CPSC and coverage in USA Today, including comments from KID, here.