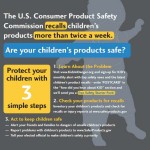 Of the more than 100 children's products recalled on average every year, at most 10%-30% are known to be repaired or removed from use. Although some may end up in the trashcan, the rest are left in homes and child care facilities where countless children will be exposed to their dangerous defects.
Recalls are the last line of defense for children. Recall announcements should provide vital information and goad consumers to take action.   But too often these announcements seem to get lost on the way to the consumer, and consumers either don't learn of recalls or aren't motivated to take action.
Improving recall effectiveness has been part of KID's mission from the beginning.  Why aren't recall notices reaching consumers or motivating the public to respond to child product hazards? To fix the recall system we needed to hear from you, and that's exactly what we did.
Drawing from online questionnaires and focus groups, we listened to parents' and grandparents' experiences with product safety and recalls. The results showed that manufacturers, regulators and groups such as KID can do more to reach families with lifesaving information. 
For instance, parents want very clear and simple recall notices so they can learn three things quickly:
Do I have this product?
What is the danger to my child?
What do I need to do?
When there is a recall, the respondents did not like it when the remedy was for them to fix the product.  Some felt they might not install the new part correctly and then be responsible for any injury; others felt is showed the manufacturer really didn't care enough about the safety of their child to provide a replacement or refund.  If repair kits continue to be a remedy in recalls, more has to be done to demonstrate why that is the best solution for the consumer, not just the manufacturer.
Grandparents want to be part of the process, partnering with their children in keeping grandchildren safe.  They want information they can share as well as tips on making their own home environment as safe as possible.
In addition to informing our own outreach and education efforts, KID plans to use these findings to improve product recall effectiveness and advance children's product safety.