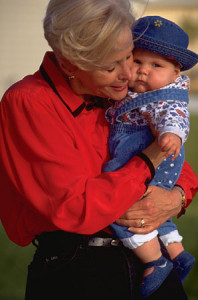 Grandparent's day is a day that should be dedicated to all the grandmas and grandpas in our lives. Grandparents are often our favorite caregivers, but it can be hard for any caregiver, including grandparents, to keep up with constantly evolving child product safety messages. This grandparent's day, KID has provided the answers to the most common safety questions we get from grandmas and grandpas. If you have a question that isn't answered here, please email me and I will send you an answer shortly.
The drop-side crib I used with my children worked for them.  Why shouldn't my grandkids use it?
Many people don't realize how dangerous those cribs really were. Over 12 million older model cribs have been recalled for safety issues and dozens of children have died as a result of unsafe cribs.  As of June 28, 2011, all cribs bought and sold in the US have to meet tough new safety and testing standards.  If you have a crib made before this date, we recommend that you dispose of the crib properly or get creative and use some of these ideas to repurpose your old crib. Getting a crib manufactured after June 28, 2011 will ensure that your crib meets the toughest safety standards in the world.
In addition to using a crib that meets these tough new standards, keep in mind that a baby sleeps safest in a bare crib. That means a crib free from heavy bedding, blankets, pillows, crib bumper pads, and toys.
I don't have room for a full-size crib in my apartment and my grandchild only stays here a few times a year – what are my options? 
Your safest option for a safe sleep space for your grandchild is a mesh portable crib (often referred to as a play yard) manufactured after February 28, 2013. Play yards made after this date have to meet tough new standards. If you don't have a play yard made after this date, then check CPSC.gov to make sure yours hasn't been recalled.  Keep in mind that the attachments that come with these products can poise additional dangers, so try to select a device without attachments or don't use the attachments your device came with. Lastly, remember the same rules apply in any sleep environments- bare is best!
 Is it safe to buy second hand products for my grandkids?  
Buying second hand children's products is very economical and you can buy safe second hand. Since there can often be more safety concerns to keep in mind when buying secondhand, consider partnering with your grandchildren's parents and decide on a purchase together.
One concern with used products is that they may not meet the latest safety standards. For this reason, we recommend caregivers buy cribs made after June 28, 2011 as these will meet the world's strongest safety standard.  We also recommend against buying used car seats or bike helmets as they may not protect your precious grandchild in an accident.
Another concern with buying used items is they could have been recalled years earlier and remained in use without anyone knowing the product's safety hazards.  For this reason, check a product for recalls before you buy. See our latest safety checklist for more tips on how to buy used items safely and visit CPSC.gov to search for recalls or visit KidsInDanger.org from any mobile device for recalls and safety information on the go. If you have a safety problem with a product, or to see if other caregivers have reported safety problems with children's products, visit SaferProducts.gov.
Lastly, used products are more likely to have hardware failure so never buy a product with broken or missing pieces. Even if you think you can fix it yourself, homemade repairs do not make a product safe for children.  If it doesn't come with assembly and use instructions, see if you can download them online.
For more information about child product safety and to keep up with product safety news, sign up to receive KID's monthly email alerts and our special grandparent emails.  If you include an address and the word "grandparent" in the comments section, we'll send a special Grandparent Safety Packet to the special grandmas and grandpas in your life.
 In honor of our collaboration with GRAND magazine, we are able to offer grandparents a complimentary subscription to the publication. Please visit www.grandsub.com to redeem.